Spencerville Academy Fulfills 25-year Dream, Breaks Ground
April 21, 2009 ∙ by owetmore ∙ in Chesapeake Conference, Education
By Merle Poirier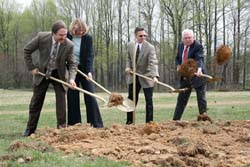 On April 19, a day blessed by sunshine and bright skies, the members of Chesapeake Conference's Spencerville church in Silver Spring, Md., met on property purchased six years earlier to break ground for a new PK-12 facility.
Fourteen years ago the school board created a committee to cast a vision for what was then Spencerville Junior Academy. Due in part to this committee's efforts, the academy expanded to senior academy status. When enrollment grew to over 300 students in a facility built for half as many, the congregation began in earnest to explore the possibility of building a new facility.
The county where the school property is located is well known for the challenges they pose to new construction. This proved true as one obstacle after another delayed the dreams of a new facility. Coupled with this was raising the capital needed to build and maintain a structure that is over 100,000 sq. ft. serving grades pre-kindergarten through the 12th grade. At long last, all permits were met, money raised, and contracts signed.
The ceremony opened with the second grade leading the congregation in the Pledge of Allegiance and the national anthem. They were followed by the academy band and several third-graders who read their dreams of what school might be like in the new building. Remarks were also made by two students—one representing the first eighth-grade graduating class and the other the first four-year senior graduating class.
Speakers included Rob Vandeman, president of the Chesapeake Conference; Jerry Lutz, senior pastor of the Spencerville church; Brian Kittleson, principal of Spencerville Adventist Academy; and Merle Poirier, chair of the building committee. Vandeman, a former senior pastor of the Spencerville church, reminded listeners that this dream has been 25 years in the making. He spoke of the many volunteers who sat on committees, dreamed dreams, and explored possibilities which contributed to this historic event in Spencerville history.
"This building project is unique within the North American Division," said Jerry Lutz, senior pastor. "Not only in its magnitude in size and cost, but it is unprecedented to have a local church as the sole supporter of such a project. My fellow pastors across the NAD have continually expressed amazement at what they see as a goal beyond our reach, and yet we, together, have accomplished this by following God's leading along with our strong desire to provide a Seventh-day Adventist education for our young people."
Shovels were manned by Vandeman, Lutz, Kittleson, and Poirier. After the first shovels of dirt were turned over, a backhoe, operated by the general contractor, took the first full scoop of Earth officially beginning construction.
The service ended with singing the doxology as the congregation gave full praise and gratitude to God for His guidance and abundant blessings. It is with great anticipation that the congregation awaits the dedication of their new building.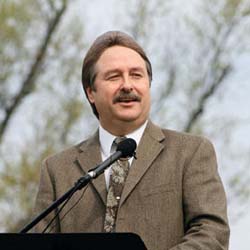 Jerry Lutz, senior pastor at Spencerville (Md.) church, welcomes the large crowd who gathered on Sunday, April 19, to celebrate Spencerville Adventist Academy's (SAA) long awaited ground breaking.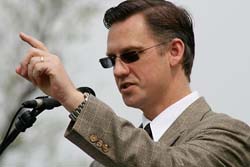 SAA principal, Brian Kittleson, reminds attendees that though Spencerville will be blessed with a beautiful new school, with that new school comes an even greater responsibility—to be a light on a hill that cannot be hidden.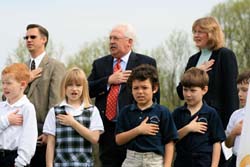 Second graders lead the crowd in reciting the Pledge of Allegiance, and in the singing of the Star Spangled Banner.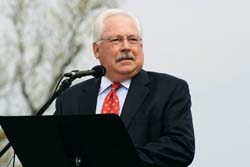 Chesapeake Conference president Rob Vandeman recounts early memories of the building project during his 12-year tenure as senior pastor at Spencerville church prior to 1996.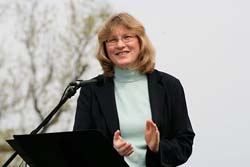 Merle Poirier, Spencerville building committee chair, thanks long-time committee members who volunteered countless hours to see the project through.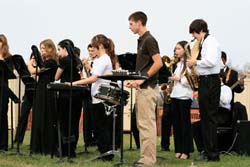 Members of SAA's band, conducted by Rod Kerbs, perform during the ceremony.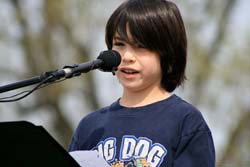 Kieran Sukachevin gives details of the changes he looks forward to in the new SAA building.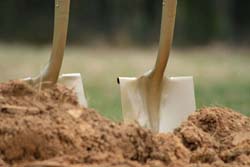 A fifth shovel was positioned in the ground to honor those members who contributed years of dedicated effort toward the building of a new school building, but have died or are disabled, and could not be present to commemorate the start of the building project.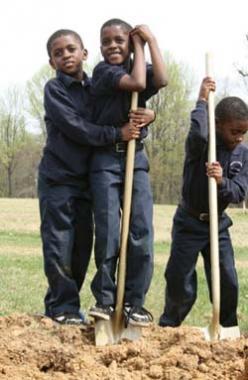 Marcel, William, and Cole Mattox pose with the "golden shovels".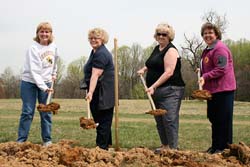 Bev Boyer, first grade; Bev Waln, second grade; Kathy Young, third grade; and Becky Koeppen, fourth grade, take their turn at breaking ground.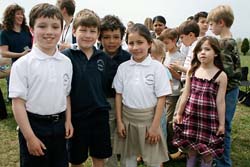 Jason Belliveau, Ethan Quinnam, Nicolas Arias, Alessia Richli and Rebekah Hess stand in the location where their new school will be built on Spencerville Road (MD Route 198).
[Photo caption: Spencerville church senior pastor, Jerry Lutz; Spencerville building committee chair, Merle Poirier; SAA principal, Brian Kittleson; and Chesapeake Conference president, Rob Vandeman break ground for the building of the new school..]