Sligo Member Receive Education's Highest Honor
July 16, 2009 ∙ by owetmore ∙ in Potomac Conference, Education
By Kitty Evans | Photo by Gary Lunsford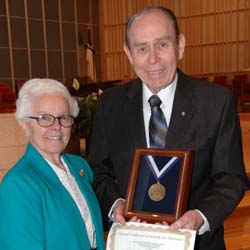 Award of Excellence is the highest award that the North American Division (NAD) Office of Education can bestow on an educator. During a recent Sabbath School Larry Blackmer, vice president for Education in NAD, presented the award after he finished sharing the mission emphasis on Christian education at Potomac Conference's Sligo church in Takoma Park, Md. As he concluded, he called Clarence Dunbebin to the podium. Dunbebin was completely surprised. The award recognized his more than 55 years in Adventist education.
Twenty years of his time in education was spent as principal of Sligo Adventist School in Takoma Park. He also held teaching and principal positions at Eastwood Jr. Academy in Ohio, Cleveland Jr. Academy in Ohio, Greater Baltimore Academy in Maryland, Tidewater Jr. Academy in Virginia, Highland Academy in Tennessee, and John Nevins Andrews School in Takoma Park. Dunbebin served as associate superintendent of education in the Potomac Conference and superintendent of the northern Virginia and Maryland schools. He also served as interim superintendent for education in Chesapeake Conference. Even though he is retired, he still serves as a teacher for Griggs University.
Recently the Sligo Adventist School recently showed their deep appreciation for his work and renamed their gym for this well-loved man.
[Photo caption: Sligo member Clarence Dunbebin (pictured with his wife, Ruth,) recently received the highest education award in the North American Division.]