Allegheny West Conference Hosts 15th Constituency Session
June 03, 2009 ∙ by owetmore ∙ in Allegheny West Conference
Story and Photos by Bryant Taylor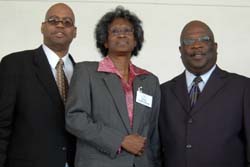 Last Sunday, some 242 delegates attended the Allegheny West Conference's (AWC) 15th Regular Constituency Session and 2nd Quadrennial Session. Their purpose was to elect officers, departmental directors, and governing committees; amend the constitution and bylaws; and hear reports of conference work during the past four years.
By lunchtime, they elected Fredrick Russell to serve as president and Robert Moore to serve as executive secretary. They also re-elected treasurer Zenobia Seward.
At the meeting, chaired by Columbia Union Conference president Dave Weigley, delegates heard reports about membership, finances, and growth, and voted to welcome three new churches into the conference—Cincinnati Hispanic, Akron New Life, and the Fountain of Life church in Columbus, Ohio. The conference now has 13,000 members, 53 churches, and two schools—Columbus Adventist Academy and Ramah Jr. Academy in Cleveland. According to Treasurer Seward, members gave $6.5 million in tithe in 2008, a slight increase over the previous year. 
After lunch, delegates voted departmental directors as follows:
Family Life and Men's Ministry - Fredrick Russell
Personal Ministries and Community Services - Robert Moore 
Stewardship, Trust Services, and Ministerial - Marvin Brown
Youth/Young Adults, Pathfinders, and Religious Liberty - Joel Johnson
Multi-Cultural Ministry and Church Planting - Walter Castro
Sabbath School, Children's Ministries, Message Magazine, and Health Ministries - Allen Baldwin
Education - Collin Parkinson
Women's Ministries - Shirley Benton
Communication - Bryant Taylor
Delegates voted a new AWC Executive Committee. They'll meet every other month, to hear reports from conference leaders, approve financial statements, and handle conference business. Members include Fredrick Russell, president and chair; Robert Moore, secretary; Zenobia Seward, treasurer; William Cox, DMin; Betty Crowder; Barbara Davis; Natasha Harding; Jerome Hurst; Harcourt King, DMin; James Lee; Jack McCrary; Derrick Moffett, ThD; Collin Parkinson; Rita Price; Clifford Reynolds; Newton Sinclair; Daryl Spivey; Janice Walker; Robert Walker, MD
Casting the Vision
Rather than end the meeting when the business was finished, new president Fredrick Russell (first elected by the conference executive committee last August when former president James Lewis accepted another position), engaged attendees in a vision-casting session and shared eight points of focus for the conference during the next four years: "The focus of the Allegheny West Conference is the frontline church," he told attendees. "Ministry does not happen at the conference office, it takes place in each of the local churches."