56 Graduate Allegheny West Conference's Lay Ministry Institute
July 28, 2009 ∙ by owetmore ∙ in Allegheny West Conference, Education
By Sarah Dubreuze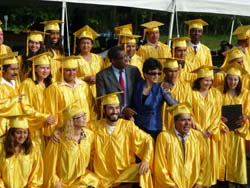 Fifty-six members of the Hispanic and Brazilian community in the Allegheny West Conference recently received certificates of Professional Lay Ministry. After taking seven weekend seminars that taught them the finer points of giving Bible studies, preaching, public evangelism, and church leadership, participants became the first graduating class of the new Multicultural Ministry Leadership Institute. 
The goal of the institute, said Libny H. Dubreuze Sr., institute founder and former director of the conference's Multicultural Ministries, is to help lay members take hold of the ministry of the church. 
"The multicultural department in our conference is very new and we want to help members become more effective in their ministries," he said. 
Professors Ricardo Norton, DMin, director Andrews University's Hispanic Institute and its Graduate Program in Spanish; Armando Juarez, Hispanic coordinator for the Utah-Nevada Conference; and Panayotis Coutsoumpos, Ph.D., new Hispanic coordinator Lake Region Conference took turns in providing instruction at the weekend seminars. 
"It was an extraordinary moment to see this dream come true; the graduation of so many of our leaders from so many different Latin American countries: Brazil, Mexico, Guatemala, Honduras, Dominican Republic and Haiti, Chile, and the United States," Dubreuze said. "It is my and my wife Sarah's great desire that these leaders will be better prepared to serve our churches in light of the many challenges this new millennium presents."
Fredrick Russell, president of the Allegheny West Conference; Robert Moore, secretary; Zenobia Seward, treasurer; and Juan Gilberto Cañas of the Greater New York Conference were witnesses to the graduation. Norton, the graduation speaker, charged graduates to help fulfill the great commission.