Chesapeake Member Becomes New "Voice" for VOP
September 22, 2008 ∙ by kkajiura ∙ in Chesapeake Conference
By Don Wood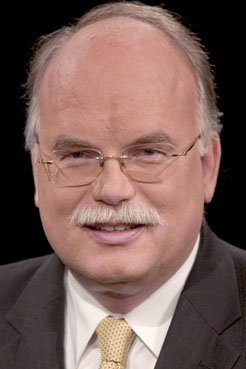 Chesapeake Conference's Fred Kinsey is the new speaker/director of the Voice of Prophecy (VOP), one of the longest-running radio programs delivering hope to a hurting world. Kinsey succeeds E. Lonnie Melashenko, who spent 17 years in the role. Melashenko now serves as vice president of Spiritual Services and Missions for the Kettering Health Network in Ohio.
"I'm glad that Fred Kinsey is able to help give voice to the message of the Voice of Prophecy," said Don C. Schneider, chairman of the VOP Board of Trustees and president of the North American Division, which sponsors the broadcast. "Fred is a veteran of pastoral ministry as well as communication, and he lives to share God's love with people, which is exactly the aim of every VOP broadcast."
Founded by Pastor H.M.S. Richards, Sr., in 1929, on the cusp of America's Great Depression, the VOP has blanketed North America and inspired similar radio outreaches around the world, in many languages. Entire families, even communities, can trace their involvement with the Christian faith to hearing a VOP broadcast, which often closed with the phrase, "Have faith, dear friend, in God.
"I'm honored to follow the broadcasting pioneers who established and grew the VOP over the years," commented Kinsey. "There is a world that needs this message, and I look to God for His help in sharing it."