Cherry Hill Church Hosts Tri-Conference Training Exercise
February 11, 2008 ∙ by kkajiura ∙ in Chesapeake Conference, New Jersey Conference
By Joseph Luste, PhD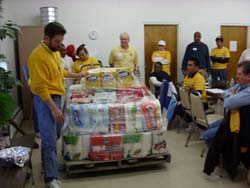 Chesapeake and New Jersey conferences recently conducted a joint ACS/Disaster Response (ACS/DR) training exercise for 34 pre-trained and volunteer participants from their territories, along with the Ohio Conference. Hosted by the Cherry Hill (N.J.) church, the exercise was held in order to teach volunteers how to set up and conduct a "hands-on" drill for a Collection Center Operation. These operations occur upon request by federal, state, or other agencies as a result of natural or manmade disasters. ACS/DR participants and leaders recognize the importance of conferences and churches working together in this established mission field.
Chesapeake Conference's Disaster Response director Kitty Juneau conducted the training session with assistance from church members Mark Hann, Ann Sulkowski, Clayton Flowers, and Richard and Connie Geer. Roy Nelson, Ohio Conference Disaster Response coordinator, also participated. Wayne Hancock represented the New Jersey Conference as their director of Education, Community Services, and Statewide Disaster Response. Hancock is recognized for his leadership and was a participant in the training. He had also conducted a mock donation center leadership and management team training session the week before.
The joint exercise was intended to model actual operations and issues during a crisis that could be encountered by both management and volunteers alike. During the exercise, some roles and positions "staffed" by previously trained management volunteers included center manager, safety officer, public information officer, receptionist, volunteer coordinator, sorting team leader, storage and shipping team leader, and shipping clerk. Sample donated goods were brought in, sorted, and boxed in accordance with established rules. Other scenarios were played out as well through simulated contact with donors, disaster victims, the media, and local building officials. 
This recent training exercise follows a previous session held at the Cherry Hill church in November 2007. During that session, 56 attendees were indoctrinated into the ACS/DR program, which also qualified attendees to serve as general volunteers. The training was conducted by the Chesapeake personnel listed above as well as Columbia Union's Disaster Response coordinator, Robert Mitchell. Attendees included Norman Talley, New Jersey Disaster Response coordinator, and Cherry Hill's own Claudia Ramirez, Statewide co-coordinator with Norman Talley. 
ACS/DR volunteers operate under agreements with the Federal Emergency Management Agency, American Red Cross, and State Emergency Management Agencies, which recognize ACS/Disaster Response as one of the top voluntary organizations active in disaster response. Adventist volunteers are also recognized by their "yellow shirts," reports Joe Watts, National ACS/DR director.