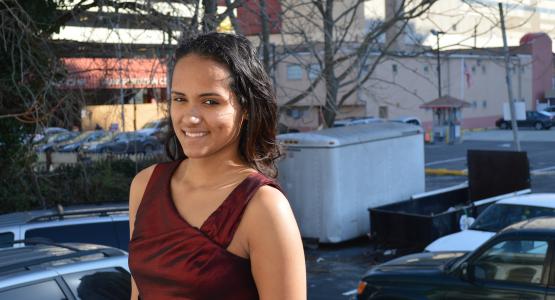 Atlantic City Member Listens to a Different "Voice"
January 06, 2014 ∙ by Anonymous ∙ in New Jersey Conference
Story by Cristina Macena
Alesandra Fernandez remembers the day she received her pass to audition for the TV show, The Voice. For this 17-year-old member of New Jersey Conference's Atlantic City church, this meant she was one step closer to having her dream come true. She had always loved music and singing. As she was growing up, she sang with the little kids in church but singing with the little kids wasn't enough for her. She watched members of the Arize ministries sing in church and yearned to join them. At the age of 12 she did and became the youngest member of the group.
Alesandra Fernandez had a difficult choice—keep the Sabbath or pursue fame.
Having an opportunity to audition for The Voice was an opportunity to sing live before millions on television and possibly land a recording contract. So she was excited and ready for the auditions. However, as she was scheduling her audition in New York City, she realized that the audition would take place on a Saturday. Her heart plummeted. The first thing that crossed her mind was God's commandment to keep the Sabbath Holy (Exodus 20:8-11, Isaiah 58:13-14). She thought of many reasons to continue with the audition. She thought that she could just head over to church in the morning then leave around 11:30 a.m. and that everything would be ok. Fernandez even told herself, "Hey, you know what? I could just audition [by singing] 'Amazing Grace' by Chris Tomlin and I could be praising God while auditioning."
She practiced the whole night. Her friends begged her to go; they told her that she shouldn't miss that opportunity, because it wouldn't come around again. Some were even bringing up the idea of how popular she'd be in school if she made it.
Before going to bed that night, she prayed to God once again, and, after praying, she told her mother that she couldn't do it. She felt like what she was doing was wrong. Not only that, but right before she went to sleep, she received a text message from someone, telling her to think about what God would want her to do, to think about the Sabbath, and how God would feel about her decision. She also remembered the Bible text, "What good is it for someone to gain the whole world, yet forfeit their soul?" (Mark 8:36).
The next morning, while thousands of people auditioned for the show, Fernandez went to church and remained there for the entire service. "I wouldn't change an eternal life with God, for a couple of days of fame. If I can't please God with the things I do, then I don't want to do them at all," she said.
Haga clic aquí para leer este artículo en el artículo en Español.