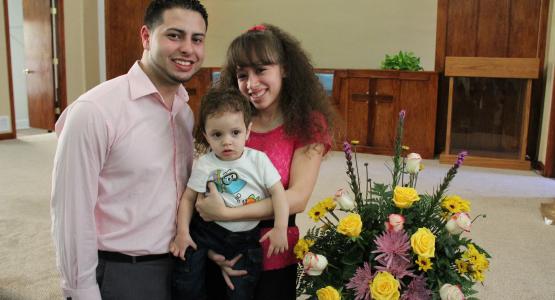 24 Claim Victory in Cleveland Hispanic Community
May 14, 2014 ∙ by Anonymous ∙ in Ohio Conference, Uncategorized
24 Ready reach oup their friends.JPG: Twenty-four members of the Cleveland Hispanic community recently joined the Seventh-day Adventist Church by baptism.
Members of the Cleveland Hispanic community enjoyed a Sabbath afternoon of rejoicing as 24 people, many with miraculous stories, gave their lives to Christ. 
Story by Ohio Conference Staff
The May 3 Sabbath celebration at Ohio Conference's Cleveland Spanish church was filled with great happiness, loud singing, smiling faces, tears of joy, hugs, and cheers of victory. The members were filled with elation because 24 people had given their lives to Christ after attending an evangelistic campaign conducted by Pastor Winston Simpson from the Pennsylvania Conference. Church members described the afternoon as one of great victory because each of those who gave his or her life to Jesus was really a miracle granted by God.
The miraculous stories to tell were many. Caleb Caraballo, son of a prominent Baptist minister in Cleveland, reconsidered his beliefs and embraced the Seventh-day Adventist faith and message of hope. After departing the church for many years, Linda Sanchez returned to the church and brought along her two sisters and two friends—all four were baptized on that same day. One of the church's small groups brought eight people to baptism, including one family of four. There was also a man who who learned about the Sabbath truth by studying on his own many years ago and finally made the decision to become baptized.
Caleb Caraballo (pictured with his wife, Ednalisse and son), the son of a prominent Baptist minister, re-examined his beliefs and joined the Adventist Church.
About four months ago members of the Cleveland Hispanic district lead by Pastor Peter Simpson, began their missionary work with an aggressive program called "Vision 2014." Each of the four congregations in the district promised to bring 14 new souls to Christ in 2014. Each church elder held a three-day series of meetings in preparation for the great evangelistic campaign. It was hard work, but the word of God was fulfilled—"He that goes forth and weepeth, bearing precious seed, shall doubtless come again with rejoicing bringing his sheaves with him" (Ps. 126: 6).
Several other church leaders joined in the celebration, including Ron Halvorsen, new president of the Ohio Conference along with his wife, Buffy; Rubén Ramos; Columbian Union vice president for Multicultural Ministries; Oswaldo Magaña, Ohio Conference's Hispanic Ministries coordinator and his wife, Herlinda.
"What joy was had!" exclaimed Pastor Peter Simpson. "Hallelujah! Praise and glory be to the name of the Lord!"