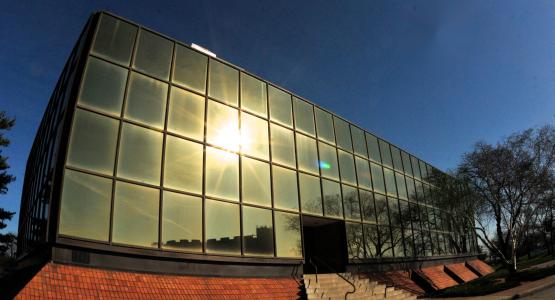 Allegheny West's New Office Complex "A Blessing," Leaders Say
April 23, 2014 ∙ by Anonymous ∙ in Allegheny West Conference, Uncategorized
Leaders say this new, three-story building in Columbus is a necessary tool in helping to them complete their mission—preparing people for Christ's soon return. 
Story by Bryant Taylor
The Allegheny West Conference (AWC) Executive Committee voted recently to purchase a new building to house
This Allegheny West Conference office building is its first new building in nearly 50 years.
their headquarters. The new complex, a three-story, 21,600-sq.-ft., facility is located at 1080 Kingsmill Parkway in Columbus, Ohio. It sits on 1.2 acres of land, just north of downtown, is easily accessible from all major highways and has 77 parking spaces.
"We're thankful for the blessing of acquiring this building—well below market value—because it will provide much-needed space for offices, meeting rooms, an auditorium, a media center and more," says William Cox, president.
AWC leads and supports the ministry of the Seventh-day Adventist Church in Ohio, West Virginia, Western Pennsylvania and Western Virginia. It has 12,000 members who worship in 62 churches and operates two schools and numerous community-based outreach programs.
Since 1967, a year after it was established, its headquarters have been located in a house at 1339 East Broad Street in Columbus.
The leadership team believes that securing this larger complex will facilitate its mission and vision to grow in the areas of evangelism, stewardship and education and enable the organization to enhance and expand its ministry to the diverse populations in its territory.
"We want to impact the larger community with a knowledge of Christ by providing practical education and training programs, sharing our lifestyle through wellness programs and assisting in their personal growth and development. All our ministries will be positively impacted by this development, and every gift and talent is needed to fulfill our potential," Cox added.
Leaders expect that the acquisition of this building will open doors, enhance community relationships, provide new sources of funding and inspire the AWC family to finish the work of preparing people for Christ's soon return. The acquisition of the building was made possible via a loan from the Columbia Union Revolving Fund.
Plans are underway to prepare the building for occupation later this year. Updates will be shared on the conference website, awconf.org, through the Allegheny West Spirit newsletter in the Visitor, at upcoming town hall meetings and at this year's camp meeting.