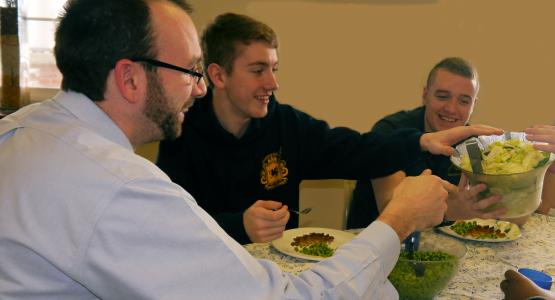 At Highland View, Students Learn About Car Care, Finances and Green Smoothies
March 19, 2014 ∙ by Anonymous ∙ in Chesapeake Conference, Education
The Hagerstown, Md., boarding school's YOUniversity program offers students a wide range of seminars not generally covered in the school's academic and spiritual program.
Story by Lori Zerne
"In today's world, teenagers deal with a lot," says Kim Brown, vice principal at Highland View Academy in Hagerstown, Md. With this in mind, school leaders are providing unique opportunities for self-development through the YOUniveristy Program. This grant-funded program is designed as an enrichment to provide for student needs and interests not typically covered in existing academic and spiritual programs.
Dan Lindow, Plant Services director, teaches Jovan Castellon ('16) about basic car care.
"This program is providing wonderful experiences for them to learn, grow and prepare to successfully navigate life."
The YOUniversity program is designed to cover six key areas: self-understanding and personal growth, healthy relationships, mental health, physical health, social skills and etiquette, and personal finance. Through the program, HVA staff presents workshops to students throughout the school year. In September students attended three YOUniveristy sessions. Heather Tydings-Goldfarb, LCSW-C, led a session called Superfoods for Health. After learning how healthy foods impact physical and mental health, many students enthusiastically incorporated new dietary habits. LouAnn McCain, food service director, quickly made sure students had access to equipment and ingredients to create their own green smoothies on a daily basis.
In Personal Self Defense, students learned basic Krav Maga self-defense techniques from Andrew Goldfarb, owner of Urbana Academy based in Frederick, Md. Senior Hunter Sorensen especially enjoyed this session, saying, "I found learning the self-defense moves … to be really cool."
In Personal Leadership, Sergio Manente, Campus Ministries director, helped students understand the impact they have on other people and communities when they truly seek God's purpose for their lives and have the courage to carry out that purpose.
Other workshops this year have included Basic Car Care, Family Dynamics, Healthy Sexuality, Financial Management and College Life. Due to the high level of interest in Family Dynamics, led by Seth Ellis, math teacher, he conducted an eight-week follow-up series focused on learning and practicing behaviors that promote grace-based interactions rather than shame-based interactions. Attendees report they better understand their behaviors and thought processes and how their behavior and thoughts affect family dynamics.
HVA alumna Alexandria Distan ('07) tells students about college life.
Junior Kristen Gibb summed up the sentiments of several students by saying, "I'm happy I learned more about healthy relationships because, when I have my own family someday, I want to make it the very best possible!"
Through the YOUniversity program, the HVA campus family also enjoys more regular events. During Tuesdays with Teachers, lunch is served "family style," and faculty members join students for the meal. While eating and communing with their teachers, students also learn and practice etiquette and social skills. The purpose of another event, Mental Health Mondays, is for students to learn about mental health issues and to encourage the practice of good mental health habits.
Sheri Tydings, LGSW, and former HVA principal, coordinates the YOUniversity program. She says, "It is difficult for schools to add 'extras' to an already packed curriculum, but I think it is really important for students to learn concepts and skills for personal development. The response from the students has been amazing. In a recent poll, 97 percent of the student body said they hoped the YOUniversity program will continue."
More seminars and activities are planned for the remainder of the year.
Derek Boyce, math and physics teacher, enjoys lunch with Jacob Antone ('16) and Wyatt Worthington ('15).