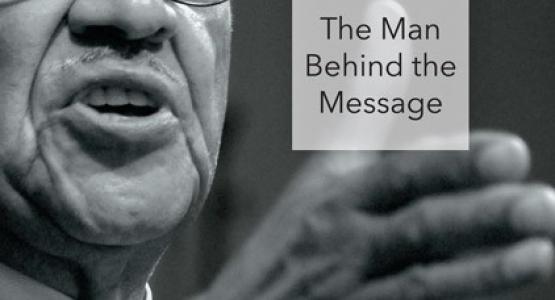 Book Release: C.D. The Man Behind the Message
February 04, 2014 ∙ by Anonymous ∙ in Potluck
For 60 years, C.D. Brooks has inspired and drawn people to Jesus. His trailblazing ministry reached people at tent revivals, on the radio, television and now on the Internet. Harold Lee and Benjamin Baker say their new book, C.D. The Man Behind the Message, is yet another way that Brooks will inspire people to improve their relationship with God and the people around them.
Benjamin Baker, PhD, who attends Potomac Conference's Sligo church in Takoma Park, Md., says he, like many in his generation, are cynical and distrustful of leadership, but, in researching the book, he found that Brooks "is the real deal."
"Whenever I think of him I want to live a life one hundred percent for Christ. I want to remain focused on what I am on Earth to do—tell others the good news. In this age of questioning, doubting and discarding truth, I want to hold the standard high for all to see," says Baker.
                ------ Click here to read an excerpt of the book ------
Benjamin Baker, PhD
Q. How did Brooks' wife, Walterene, impact his ministry and mission?
A. Walterene is everything to him. Theirs is the greatest love story I have encountered outside of a movie or novel. Sister Brooks told me that she has been with "Honey" over 60 years, and has never had to open the car door once when she has driven with him. Not once. Their love has not abated at all over the decades—only strengthened.
Walterene was by his side his whole ministry, strengthening and fortifying him. But she also took a leading role in the churches he pastored, all while distinguishing herself in the educational field.
Q. How did C.D. and Walterene help break down racial barriers?
A. Interestingly, neither of the Brookses was consumed with race as many were in the 1950s, 60s and 70s. This is not to say that they didn't experience it. On the contrary, when the newlyweds attempted to get a room on the night of their wedding, they were refused by hotel after hotel. [They] finally parked in a secluded area and the two slept in the car.

All he ever wanted to do was preach, but the Lord always stretched him further. When former Columbia Union and [then] General Conference (GC) President Neil Wilson asked Brooks to be a field secretary for the union and then the GC, he initially said no to both. But when Wilson persisted, Brooks recognized that God wanted him to accept the positions. From there, Wilson adroitly used Brooks' powerful presence and preaching to chip at the wall of prejudice. When Brooks was denied a hearing because of his color, Wilson said, "There isn't a corner of our union that C. D. Brooks is not welcome in. Make your peace with that." From there the gospel that Brooks preached melted the hearts made cold by hate.
Walterene Brooks was a trailblazer in integrating Sligo Adventist School as it is now known and the public school system in Prince George's County, Maryland. She wasn't afraid to go places where people of her color hadn't gone before. She won numerous awards over her lengthy career that acknowledged the role she played in bringing about the ethnic diversity in Prince George's County schools today.
Q. What is next for Brooks?
A. Brooks is currently the chaplain in residence for the North American Division, and he continues to preach. You can find his sermons all over the Web, most notably on YouTube, which has dozens of them with tens of thousands of views. He will live on indefinitely.
Click here to read an excerpt from C.D.: The Man Behind the Message.
Interview by V. Michelle Bernard