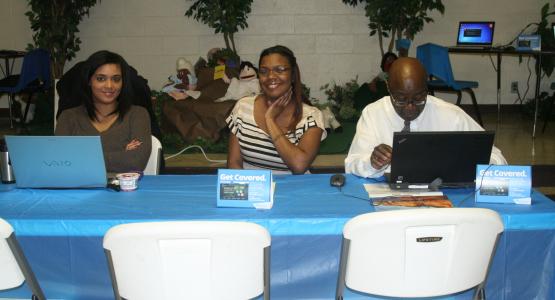 Allegheny West Members Help 30 Sign Up for Healthcare
January 29, 2014 ∙ by Anonymous ∙ in Allegheny West Conference, Health & Lifestyle, Uncategorized
Members of the Southeast church in Cleveland get ready to sign up community members for health insurance.
Story by Deborah Donbraye; Photos by Cheyanne Burton
About 30 people signed up for or received help in getting health insurance coverage during a January 18 enrollment event at Allegheny West Conference's Southeast church in Cleveland.
For many healthcare enrollees, it was also the first time they visited a Seventh-day Adventist Church. Attendees asked questions about the new Affordable Care Act, submitted their applications for Medicaid or navigated the healthcare websites themselves, a real convenience for those who may not have access to the Internet.
"Southeast … did a great job setting up the location for the event," said Hugh F. "Trey" Daly III, Ohio state's director for Enroll America.
He, along with federal and county officials, joined Cleveland groups at the event. The church worked with Brenda Delgado, external affairs liaison/marketplace outreach lead for the U.S. Department of Health and Human Services Regional Office in Chicago, to organize the event.
Delgado, who is also an Adventist, spoke to the congregation during the worship service. She complimented Pastor Hurst and Southeast members for hosting the event. Hurst, who is also the conference's Adventist Community Services director, is helping Delgado set up similar events at other churches in the Cleveland area.
The Southeast church is an official certified application counselor organization and several members are training to assist in enrollment. Open enrollment continues until March 31, and Pastor Hurst indicated that there will likely be other enrollment events at the church.
The enrollment event was one of three community events at the church that weekend. They distributed food Sunday and hosted a Martin Luther King Jr. birthday celebration Monday. "These events are a fulfillment of one of our frequent prayers—for our church to be a beacon on the corner and our light to shine brightly," shares Hurst.