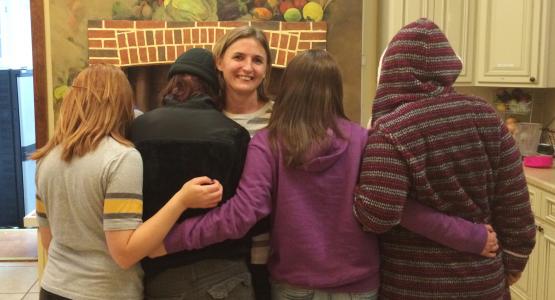 December 08, 2014 ∙ by Anonymous ∙ in Potomac Conference, This Month's Issue
Healing the Broken
Story by Ilse Eisele
I was terrified when I approached the front door at The Samaritan Women. This was my first day and I was about to meet my first victim of sex trafficking.
Would I say the wrong thing? Was there even a right thing to say to women who have been broken so badly?
The Samaritan Women is a Christian organization in Baltimore that provides long-term care and support for survivors of trafficking as they recover. I would be volunteering there for the next two months as I worked towards my master's degree in counseling psychology.
As I was let in, a young lady, let's call her Charlie, immediately introduced herself. Charlie was young and timid, but she welcomed me with a smile that calmed my nerves. If her eyes didn't betray her pain, she would have seemed just like a sister or friend.
After a few weeks of getting to know the women, I was invited to sit in on group sessions with Jeanne Allert, the organization's founder and director. These sessions focus on recovery for sexual assault victims and gave me a glimpse into the brutality my new friends had endured.
I learned about the fear that still consumed them and the beatings they suffered when they returned to their pimp without the night's quota. I saw the scars where months and years of abuse had permanently marked them. I heard stories like Charlie's, who was found in a ditch, barely able to move, with both eye sockets fractured. I learned that the pain doesn't end when the women are rescued—they relive it through nightmares and flashbacks.
What struck me the most was that the pain these ladies expressed as being the most difficult to overcome was the emotional manipulation the pimps used to control them. That broken trust still causes these strong women to ache, long after the broken bones have healed and some memories have faded.
Two months has already turned into 10 months of volunteering, and every day with these women shows me the amazing power of God's grace. Charlie has now been baptized, and witnessing her rebirth in Christ has been one of the most uplifting experiences of my life.
My hope for volunteering at The Samaritan Women was that I would be able to help these ladies find reason to trust in humanity again. I hoped that God would use me in a way that reflects the unconditional love He has for them. I see now that His plan has shown me the same. I feel blessed beyond words to have been given this rare opportunity.
Ilse Eisele is a member of Potomac Conference's Sligo church in Takoma Park, Md.