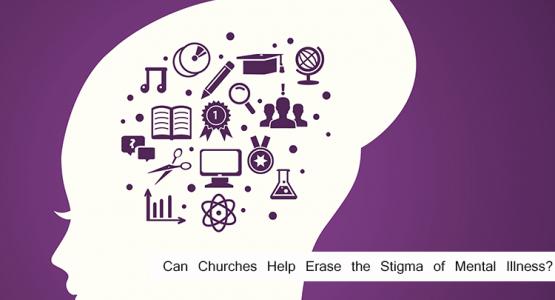 Can Churches Help Erase the Stigma of Mental Illness?
March 27, 2014 ∙ by Anonymous ∙ in Perspectives, This Month's Issue
One out of every four adults you greeted in church last week with an enthusiastic "Happy Sabbath!" could either be suffering from a form of mental illness or taking an antipsychotic drug. What can we do to help?
Story by Debra McKinney Banks
One out of every four adults you greeted in church last week with an enthusiastic "Happy Sabbath!" could either be suffering from a form of mental illness or taking an antipsychotic drug. What can we do to help?
According to the National Institutes of Mental Health, within any given year in the United States, "approximately one quarter of adults are diagnosable for one or more" mental disorders. Additionally, nearly half of Americans aged 18 and older are afflicted with mental illness at some time in their life, with the average age of onset being 14.
TAKE IT DEEPER

Join our Twitter chat about #mental illness on April 29 at noon.  We'll discuss symptoms and how you can help those suffering.  Follow us @VisitorNews and tweet your questions/comments to #VisitorChat.
The National Alliance on Mental Illness defines mental illness as a "medical condition that disrupts a person's thinking, feeling, mood, ability to relate to others and daily functioning" and "often results in a diminished capacity for coping with the ordinary demands of life," such as anxiety and eating disorders or depression. While serious mental illness is less common (affecting about 1 in 17 adults), this is a reality that impacts people and families in our pews.
In her book Troubled Minds: Mental Illness and the Church's Mission, Amy Simpson, a managing editor for Today's Christian Woman magazine, discusses the social disruption that mental illness can cause in churches: "Because [the church is] full of imperfect and sinful people, the community in churches often feels fragile and finds itself sustained by polite behavior and exaggerated piety. … In such an environment, people with mental illness sometimes upset the balance and intimidate the rest of the community with unpredictable and socially unacceptable behavior. And, while people might show patience with a short-term difficulty, the prospect of ongoing interaction with someone suffering from a chronic mental illness may be more than most people feel they can endure."
Raising Awareness
Seventh-day Adventist Church leaders on the frontlines of Health Ministries are attempting to initiate conversations and bring light to this topic. In October 2011, Loma Linda University (Calif.) and the General Conference hosted a four-day emotional health and wholeness symposium.
Last spring Katia Reinert, Health Ministries director for the North American Division (NAD), represented the Adventist Church at the National Conference on Mental Health at the White House. While there, Reinert shared upcoming plans to promote mental health understanding and education throughout the NAD's 5,400 churches. She will work with Adventist HealthCare, in Gaithersburg, Md., on a 2015 mental health conference. She'll also collaborate with the Review and Herald Publishing Association in Hagerstown, Md., to produce a 2015 youth devotional focused on emotional and mental health and a special issue of Vibrant Life magazine.
Reinert also recently established a mental health taskforce to develop additional strategies and programs.
Interestingly, church leaders are emphasizing another point: no one organization or ministry can do it alone. John Gavin, associate director and chair of the social work program at Washington Adventist University in Takoma Park, Md., notes that education, training of members and church leaders, as well as pooling resources, knowledge and expertise from a wide berth of disciplines and ministries—Adventist and otherwise—are all essential to supporting individuals and families in our churches suffering with mental illness.
Lifting the Veil
Eliminating the stigma associated with mental illness is the first step. Simpson notes that many Christians have an "illusion of safety" and feel that "Christian faith inoculates against troubles like mental illness" (Troubled Minds, p. 148).
Jude Boyer-Patrick, an Adventist psychiatrist and medical director for the Good Shepherd Medical Center in Baltimore, agrees. "Mental illness is an equal opportunity illness. Every one of us goes through something at one time or another," she says. "But, when the brain snaps, that's it. You are in recovery. Period. Some may even be on medications for life."
Gavin also adds that families often feel a great sense of shame and guilt. "They may wonder, 'Why did God do this to us?'" he notes. Sadly, church members can place additional burdens on the family. "Unfortunately, our response is often denial, minimization, ignoring or giving responses that actually tend to hurt like: 'You just need to pray harder,' or 'Is there sin in your life that you aren't dealing with?' That's the worst thing anyone can ever say to someone dealing with mental illness," Gavin says.
Dr. Boyer-Patrick, a member of Allegheny East Conference's Capitol Hill church in Washington, D.C., notes another obstacle members face: a great mistrust in treatment from mental health professionals. She believes congregants "will often misquote Ellen White in support of not seeking treatment, or say 'you just need to follow the eight laws [of health]' and think that's all you have to do," she says.
This isn't uncommon thinking. A 2012 survey of evangelical Christians conducted by Lifeway Research found that 35 percent of Americans and 48 percent of evangelicals believed that people with serious mental disorders could overcome their illnesses "with Bible study and prayer alone" (Christianity Today, September 17, 2013).
"Mental illness is not devil possession," emphasizes Boyer-Patrick. "The mind is a complex, complex thing that we are still learning about. There is lamentable ignorance in our churches about [it]. Folks need to know that it's okay to get help."
Where to Begin
Seabrook Counseling Team: Jimmy Munoz, discipleship pastor; Monique Keene-King; Damein Johnson, senior pastor; and Jeremiah Green, youth pastor
Gavin and Boyer-Patrick have suggestions for congregations who want to help those affected:
"Just start talking about the issues," Gavin says. "Provide forums for discussion and questions." He also recommends inviting local mental health representatives to conduct workshops and seminars.
Establish an in-church counseling ministry like the one operated by Potomac Conference's Seabrook church in Lanham, Md..
Support groups are another option. "These can be a viable ministry for some churches, provided that you have a professional who is trained in group facilitation," Gavin says.
Boyer-Patrick adds a cautionary note, "In today's society, where there is so much litigation and liability issues, you'd have to tread a fine line." Instead, she suggests congregations serve as resource centers, providing links to local services and information that can be easily accessed.
The bottom line: do something. All congregations can be understanding, compassionate and empathetic. Learn to listen. And, above all, remind those affected that God has not abandoned them.