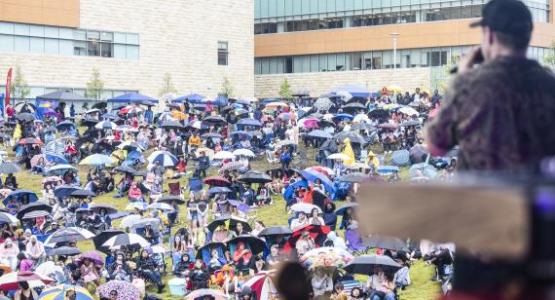 WGTS 91.9 Kicks Off 8th Annual Summer Concert Series
July 05, 2023 ∙ by rbacchus ∙ in WGTS
Story by Jerry Woods
WGTS 91.9 recently kicked off its 8th annual Summer Concert Series with the band CAIN. This event was a partnership between the station and Adventist HealthCare White Oak Medical Center, beginning at 3 p.m. by the lake on the hospital's back lawn. Ice cream, games, a prayer area and a live broadcast with afternoon show hosts Johnny and Stacey Stone were provided by the station. Meanwhile, the medical center held a health fair, featuring health screenings, health demonstrations, a blood drive and various health and wellness booths. Listeners also brought school supplies as part of a Hands and Heart project for children in need in the Washington, D.C., area.
At 6:30 p.m., CAIN hit the stage in a show that highlighted all of their radio hits. More than 2,000 listeners braved the rain to enjoy the concert. 
"You never know what you're going to get when you do an outdoor show. Watching people sing and dance in the rain to CAIN is a picture that will be etched in my memory forever," says WGTS morning show host and marketing director Jerry Woods.
"The word we kept hearing from listeners all day was 'family,'" says Stacey. "People would walk up and say, 'Hi, family!' I think that's why it didn't matter that it was pouring rain. When you're with family, it turns what could be a mess into a fond memory."