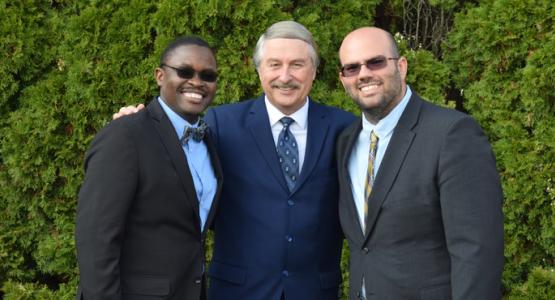 West Wilmington Marks 130 Years
March 14, 2023 ∙ by Web Administrator ∙ in Chesapeake Conference
Story by Evan Knott
The West Wilmington (Del.) church recently celebrated its 130th anniversary during a special worship service featuring stories, music, preaching and two fellowship meals. Members from the Life in Christ and Hope Community churches in Bear, Del., which constitute the rest of the church district, also attended and participated in the day's festivities.
Guest speaker Jerry Lutz, Chesapeake Conference president, challenged members to imitate the faithfulness of the pioneers who had the vision to plant the church 130 years ago.
"It was really a high Sabbath," says Elvis Mogoi, West Wilmington senior pastor.
West Wilmington was officially organized as the Wilmington Seventh-Day Adventist Church July 30, 1892. The church's school, Wilmington Junior Academy, has operated continuously since 1926. The church name was changed to its current name in 1965 when the congregation moved to its present location on Millcreek Road to allow for the construction of a separate school building.
Mogoi says studying the church's history has been a valuable reminder of how God has provided for the congregation in the past. "I was excited reading through the minutes to discover some similar challenges to what we are facing today," Mogoi says. "When you see that God brought them through it, you realize, 'Wait a minute, we're not the first ones to deal with this. God can actually do it.'"