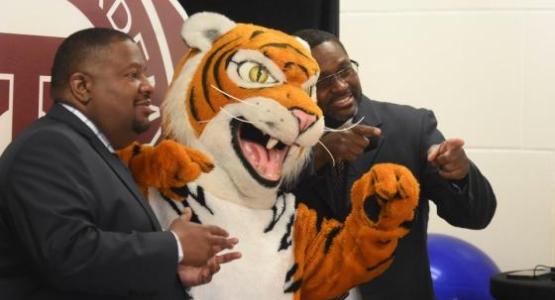 Takoma Academy to Host Alumni Weekend
March 07, 2023 ∙ by rbacchus ∙ in Potomac Conference, Education
Story by Shaun Robinson
This spring, Takoma Academy (TA) will welcome its alumni back to campus to celebrate and reconnect. The weekend, themed "Still Standing!" will feature Sabbath speaker Charles A. Tapp, president of the Potomac Conference and longtime teacher and friend of TA. The weekend will honor the accomplishments of current students and faculty and highlight the ongoing contributions that TA alumni make near and far. With a rich alumni heritage, TA is proud to celebrate the honor classes of 1943, 1948, 1953, 1958, 1963, 1968, 1973, 1978, 1983, 1988, 1993, 1998, 2003, 2008, 2013 and 2018.
The tentative schedule of events is listed below:
Thursday, April 20:
7–9 p.m. Co-ed TA varsity vs. alumni basketball game, TA gymnasium
Friday, April 21:
6–7 p.m. Class break-out/meet and greet sessions, TA chapel
7–9 p.m. "Still Standing" worship experience, featuring alumni worship leaders, singers and musicians, including light refreshments, TA chapel
Sabbath, April 22:
10–11 a.m. Sabbath School and alumni panel discussion, TA chapel
11 a.m.–1 p.m. "Still Standing" Sabbath worship service, featuring speaker Charles A. Tapp, TA gymnasium
1–3 p.m. TA Alumni of the Year awards and catered luncheon, TA cafeteria. All alumni, family and friends are welcome. Tickets are $30/per person. Space is limited.
Sunday, April 23:
9 a.m. "Let's Move, TA!" bicycle ride to Sligo Creek Parkway departing from TA parking lot. All ages and skill levels welcome.
10 a.m. 5K Walk-a-Thon, TA track and field
11 a.m.–12 p.m. Co-ed alumni 3 vs. 3 basketball tournament, TA gymnasium
During TA's 2023 Alumni Weekend, the goal is to raise $100,000 toward the construction of two new state-of-the-art STEM classrooms. For more information, visit ta.edu/alumni.