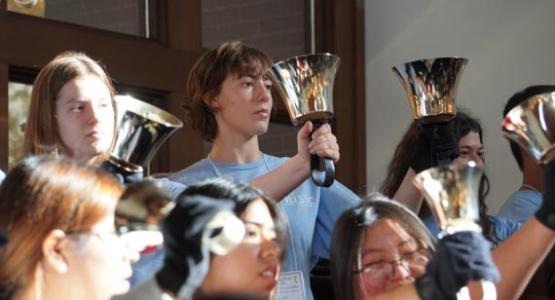 RingFest: A Shenandoah Valley Academy Music Tradition
March 21, 2023 ∙ by rbacchus ∙ in Potomac Conference, Education
Story by Daniel Biaggi
Experiencing long-held Shenandoah Valley Academy (SVA) traditions with students is an uplifting experience. One tradition students look forward to—for more than 20 years now—is the handbell RingFest held in Toledo, Ohio.
This year, the RingFest Tour began at Worthington Adventist Academy in Columbus, Ohio. The SVA Handbell Choir performed a concert including harp, flute, percussion and piano. Upon arriving at RingFest, students were challenged by two days of intense practice, directed by renowned handbell clinicians Martha Matthews and Kevin McChesney. Making music with 15 school handbell choirs from across the Columbia Union was a unique and beautiful learning experience. The combined activity and challenge of RingFest for the students and directors was exciting. Senior Leo Lam described it this way: "I loved the hype and the energy of RingFest."
Also this year, alumna Emily White ('21), now a music theory and literature student at Southern Adventist University (Tenn.), was asked to lead the Festival Choir. White shares, "SVA helped me use my love of music. If I'd gone to a school where the music program wasn't so great, I wouldn't be on the [music] career path I am today."
After the festival, they had time to perform at the Ephesus church in Columbus and the Eastwood church in Westerville, Ohio. One of the families prepared special food for the group, with SVA students exclaiming, "This is the best food we have eaten on tour!"
On tour, they practiced a lot, worked hard, enjoyed meaningful talks on the bus, hiked a national park, played games and performed, all which honored the special RingFest Tour tradition. The Handbell Choir members gave the tour a 100 percent approval, highly recommending it to others. First-year ringer senior Dianny Ortiz shares, "I've learned we have to do everything with our hearts and for the Lord."
This is what SVA is all about—granting students the opportunities to enjoy SVA traditions that provide important learning experiences and prepare them to live the SVA vision to Serve God, Value Knowledge, and Accept a Life of Service.