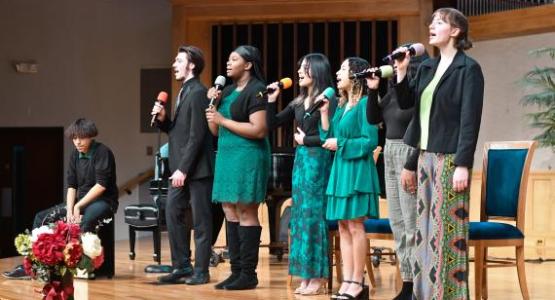 Revival Like Nothing I've Seen Before
May 25, 2023 ∙ by rbacchus ∙ in Potomac Conference, Education
Story by Naomi Coreas ('24)
A spiritual revival occurred on the campus of Potomac Conference's Shenandoah Valley Academy (SVA) during student-led Week of Prayer like nothing I've seen before. It is one of the best weeks I have ever experienced at SVA. Two weeks prior, student leaders attended a Spiritual Retreat to plan the week. Upon arrival, we had dinner and vespers, welcoming the Sabbath by studying Isaiah 58. We sang camp songs, had fun and created a space where we could be vulnerable. We were given the freedom to express our concerns and questions about the Bible and Christianity to understand topics that might be meaningful for fellow students during Week of Prayer.
At the retreat, we began planning by dividing into groups based on roles we would fill during the week. In the speaker group, we studied the struggles Jeremiah faced when God asked him to speak. We had a special time being encouraged by faculty and peers, taking walks and time alone to pray. Together, we chose the theme, "A Better Way: Do You Want to Be Made Whole?"
I was asked to speak about "What's Your Yoke?" which is the same question we discussed during Friday's Bible study. Considering Mary Magdalene carried many burdens, I was asked to speak about her. Everything I learned about Mary was crucial to identifying "yokes" that may hold us back from having a better relationship with Christ.
For Week of Prayer, in the mornings we sang campfire songs and watched clips of The Chosen series to introduce the day's theme, followed with a summary by Raquel Gomez ('24). Throughout the week, we prayed over ourselves, friends, families, teachers, mentors and, most importantly, our school. We prayed that a spiritual revival across campus would transform lives and for the Holy Spirit to rain down on us and fill every space on campus. 
The student speakers were used by God, sharing their testimonies and emphasizing that Jesus is our Friend, and He is the best way. Anaiah McCalla ('23) spoke on transformed lives; Marietta Nagy ('24) on breakthrough in Christ; and Salome Tembo ('24) on learning to surrender.
Jonathan Pelote ('24) ended the week strong by preaching on Sabbath morning. He summarized the week and expressed the importance of trusting in God to transform our lives.
Ever since Week of Prayer, I am more engaged in spiritual activities on campus and am pursuing a deeper relationship with Christ. I have seen revival and reformation within my friend group and the students around me. I hope this transformation will last a lifetime.