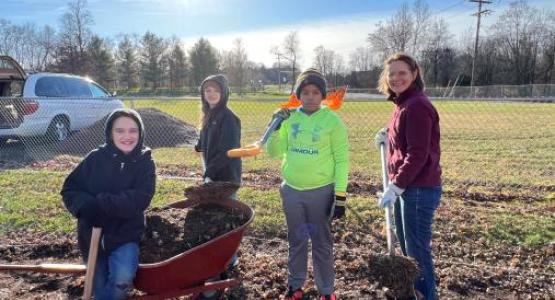 Pennsylvania Schools Receive Gifts of Safety
April 04, 2023 ∙ by rbacchus ∙ in Pennsylvania Conference
Story by Tamyra Horst
Volunteers recently came equipped with shovels and a commitment to the students at York Adventist Christian School and Harrisburg Adventist School, transforming their playgrounds with new rubber mulch floors.
Each of Pennsylvania Conference's 10 schools recently received safety upgrades and new technology as part of the conference's strategic initiative, "Together for our Kids"—helping schools provide students every opportunity for their spiritual, emotional, physical and intellectual growth, equipping them, not only for their future in this world, but also for eternity.
The schools received red emergency backpacks for each classroom to use on field trips and outings, along with an emergency/crisis rolling kit, complete with emergency water, blankets, weather radio, vegetarian and allergen-free food rations, first aid, tarps, etc. The schools also received items based on their needs—new playground equipment, security cameras, interactive touch boards, new computers, new safety exit doors and more. This is all part of the Pennsylvania Conference's commitment to providing safe places for students to learn, grow and deepen their walk with Christ.