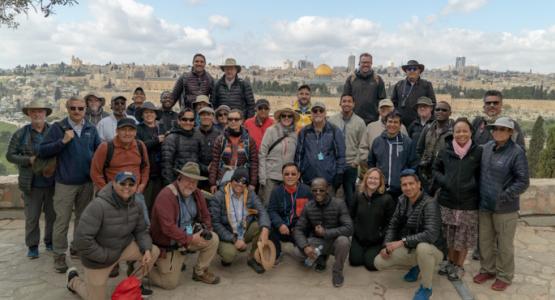 Pastors Renew Faith on Bible Lands Trip
July 24, 2023 ∙ by Web Administrator ∙ in Chesapeake Conference
Story by Evan Knott
The Chesapeake Conference recently organized an educational study tour to the Bible lands for pastors, aiming to enhance their biblical knowledge and support their ministry.
On the first phase, the pastors visited Egypt and Jordan, and on the second phase, they traveled to Israel and Palestine. Visits to significant biblical sites such as Mount Sinai, the Sea of Galilee, Jerusalem, Bethlehem, the Jordan River and Mount Carmel were included in the itinerary.
Jerry Lutz, Chesapeake Conference president, emphasized the significance of the tour, describing it as a "faith-building, perspective-expanding, and broadening experience" for the pastors. Lutz noted that for some, it would be a once-in-a-lifetime opportunity to visit locations where the patriarchs lived and Jesus walked.
Eli Rojas, conference ministerial director, expressed satisfaction with the overall experience. "We had a wonderful experience as a group of pastors. We climbed Mount Sinai, we walked by the Dead Sea, we visited the Sea of Galilee and so many other places," he says. "Our hope, and what we are actually already seeing in our pastors, is renewed excitement about Jesus."
The study tour has had a lasting impact on the participants, with many pastors reporting a deepening of their faith and a strengthening of their ministry. John Rengifo, lead pastor of the Ellicott City (Md.) church, shared his personal experience, saying, "My life was deeply enriched by being there and seeing the places, listening to the stories and reading the Scripture about all of these biblical places. I cannot describe the impact that has made on my faith and the affirmation it's given me in the Word of God."
A highlight for many on tour was the opportunity to recommit their lives to Christ by following His example and being baptized in the Jordan River. Babawale Adepoju, senior pastor of the Pikesville and Reisterstown churches in Maryland, who was accompanied on the trip by his newlywed wife, Candace, said the moment was especially meaningful to them as they begin their shared life together. "It was just an amazing experience for me and my new bride to recommit our lives to God and to follow in the same path that Jesus did by being baptized in the Jordan River when He started His ministry," says Adepoju.
"Chesapeake Conference's investment in this study tour reflects its dedication to promoting continuing education for pastors, enabling them to better serve their local congregations," says Lutz. "The transformative experience offered through this tour has not only renewed the pastors' excitement for their faith but also enriched their ministry and strengthened their connection to the Bible's teachings."