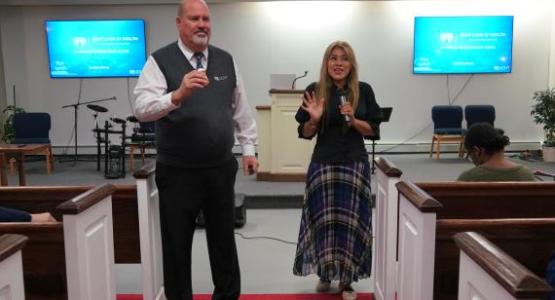 Health Fair Held at Tranquility Camp
November 15, 2023 ∙ by rbacchus ∙ in New Jersey Conference
Story by Stephen Lee
The New Jersey Conference (NJC) Health Ministries Department promotes balance and temperance for well-being, harnessing the benefits of pure water, fresh air and sunlight.
To that end, Jean-Michel Etienne, NJC Health Ministries director, organized a health fair in September at the Tranquility Camp in Andover. 
Highlights included a training by a representative from LIGHT: Lay Institute for Global Health Training; lectures on diabetes and hypertension by a representative from the Hackettstown Hospital Atlantic Health System; vital sign checks by local church nurses; a cooking class by Delma Yorimoto, a member of the Wayne church; massage therapy by Dante Redondo, a member of the Princeton church; and a mental health lecture by Camelys Vincent, a member of the All Nations Community church in Union.