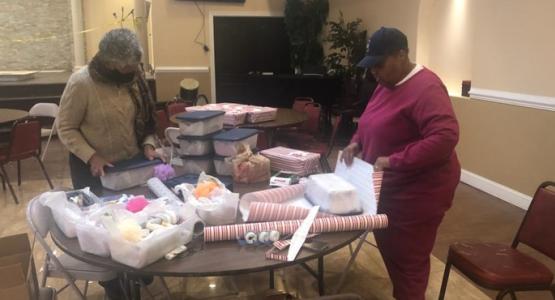 First Church Serves Local Women's Shelter
March 14, 2023 ∙ by Web Administrator ∙ in Allegheny East Conference
Story by LaTasha Hewitt 
The Women's Ministries Department at the First church in Washington, D.C., recently participated in the Shoebox Gift Project, an initiative to help women experiencing homelessness in their local area, specifically survivors of domestic abuse. Church members and volunteers donated personal items such as lip gloss, nail products, feet and face masks, body wash, fuzzy socks, essential oils and scented candles, as well as Christian tracts.
Women's Ministries executive board members gathered in the church's fellowship hall on a Sunday afternoon to sort the collected items, then fill and decorate the gift boxes. They packed 30 plastic shoeboxes with the goods collected. When they delivered the boxes to My Sister's Place shelter in Washington, D.C., the staff were so happy. They expressed thanks for thinking of their clients. All extra gift boxes were given to female church members 80 years and older.
Monique Riddick, Women's Ministries leader, states, "My goal for Women's Ministries is to empower women survivors of domestic violence. This is a population of people who are overlooked."
The Women's Ministries Department aims to provide inspiring programs for the women of First church and to end violence in their community. They look forward to continuing the project.