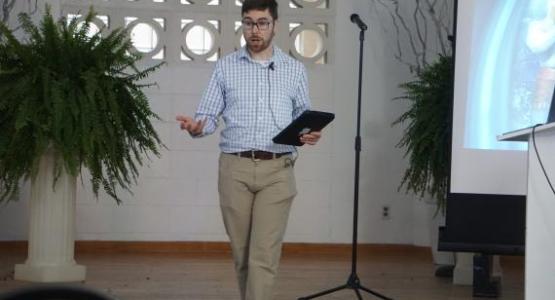 Faith-Filled Journey of Evangelism Transforms Church
July 17, 2023 ∙ by rbacchus ∙ in Pennsylvania Conference
Story by Tamyra Horst
"It's been a wild, faith-filled journey," shares Andrew Abbott, pastor of the Seneca church. "I wrestled between being realistic with our challenges and having faith-based optimism about what God can do."
Abbott and the members of Seneca wanted to share the gospel, but didn't know where to begin meeting people and building relationships. Then in December, they became one of the 29 churches in Pennsylvania Conference's Church Regeneration initiative.
"It was an 'aha moment' for us when Stewart Lozensky, [Church Regeneration director], showed us what it would look like to have evangelism at the center of everything we do," Abbott says. "The Great Commission needs to be our focus. It really motivated us. We are a small team, but members began planning connecting events like 'Dinner with the Doctor' and a concert with Jamie Jorge, a renowned violinist."
Seneca's journey also included the conference's Winsome Witnessing training videos program. Attendees learned how to give Bible studies, go door-to-door with surveys and follow up with those interested in learning more. The training explained the simple process and empowered members to put it into practice. As they did, they met people who shared their challenges and hunger to learn more about God.
"It's easy to think that no one will be interested in the gospel," Abbott explains. "But you begin getting into the community, chatting with people, and you see that the Holy Spirit is moving and creating a hunger in hearts to know more about Jesus."
Guests outnumbered members as more than 30 people attended Seneca's spring "Revelation Speaks" seminar—one of 107 evangelistic meetings scheduled across the Pennsylvania this year. As the series ended, member Donna Bertha invited those interested to small group Bibles studies. Seven people joined her as she shared the Prophecies of Hope Bible study lessons.
The Winsome Witnessing training videos, featuring Gary Gibbs, conference president, were recently updated and refilmed at the conference's Mission and Evangelism Center and are now available for those who want a simple way to share a Bible study.
"I am so proud of our members and how hard they've worked," Abbott concludes. "This journey has grown us stronger as a team and deepened our faith in God."
Yves Monnier, conference Ministerial and Evangelism director, shares, "The journey of the Seneca church embodies what is happening across the Pennsylvania Conference: small churches coming back to life through a renewed focus on actively sharing Jesus. Please help us keep the positive momentum by investing in our conference's evangelism offering. Without your ongoing support, the story from Seneca would be very different."