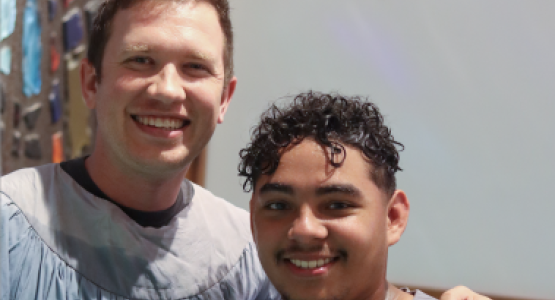 Blue Mountain Academy Family Inspires New Student
August 22, 2023 ∙ by rbacchus ∙ in Pennsylvania Conference, Education
Story by Tamyra Horst
João Gabriel Ramos Marques' mother prayed for her son. She knew his friends were a bad influence on him and saw the poor choices he was making. She believed that God would change her son and the direction of his life.
"My mother never gave up on me, despite my rebellious actions," shares Marques. "She sent me to Faculdade Adventista da Amazonia, an Adventist school in Brazil, in hopes that I could find truth and Jesus."
There Marques learned about Pennsylvania Conference's Blue Mountain Academy (BMA) in Hamburg. "I quickly became interested in attending BMA to have the opportunity to start a new life, learn a new language and meet new friends."
He did, indeed, begin making new friends, but wasn't getting anything out of the Adventist beliefs and worship services held at the academy. Rafael Tavares, a resident advisor, noticed Marques and began praying for him. The two began meeting each night to pray and study together.
"I started investing in my spiritual life," says Marques. "I knew my mother, my BMA friends and staff were praying for me. I decided that I wanted to be baptized."
Marques began studying with Adam Bially and Tony Gil, BMA pastors, and as a result, Bially baptized Marques before the school year ended.
"Even though it took time for me to grow, they constantly encouraged me," Marques says. "As a result of what God has done in my life, my family has been convicted to turn to Jesus too."