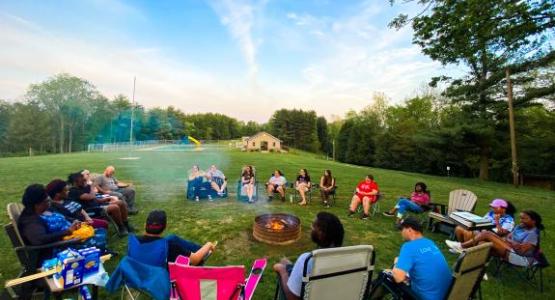 A Year of Youth Department Firsts at Ohio Conference
December 12, 2022 ∙ by rbacchus ∙ in Ohio Conference, Editorials
Editorial by Edward Marton
Another year has come to a close, and we can honestly say that God has not only been with us but has truly led and blessed the children, high school youth, young adults and adults of Ohio.
Reflecting on the year, we had quite a few "firsts." Some firsts are returning to Camp Mohaven in Danville, Ohio, for Adventurer and Pathfinder events. Other firsts are beginning an organizational culture shift, turning "the hearts of the parents to their children, and the hearts of the children to their parents" (Mal. 4:6, NIV).
March saw our first "Growing Together" weekend, where more than 40 leaders from 17 churches gathered at Mohaven (pictured, below) to learn how to help each generation worship and serve in their local congregations. Jake Mulder, author of the book, Growing Young, led this training intensive with practical tools and suggestions for this ministry cohort.
As a result of the program, these 17 churches are journeying through 12 months of mentorship until March 2023. Leaders meet via Zoom to discuss intergenerational ministry plans. For example, one church is planning a retreat in which they are intentionally bringing together children, youth, young adults, and adults to fellowship, worship and grow together in Christ.
In April, we held our first post-pandemic Pathfinder Fair. More than 300 Pathfinders, leaders and parents gathered at Mohaven under the theme, "Respectfully Yours," looking at the life of Abigail from the Old Testament.
In May, we also had our first post-COVID-19 "Respectfully Yours" Adventurer Family Retreat at Mohaven. Brooke Wong (the former chaplain of Worthington Adventist Academy) shared the ways God's children honored Him in the book of Ruth. 
Youth also enjoyed the first Columbia Union Camporee in years, and parents connected at the first Adventurer and Pathfinder leadership training following the camporee.
Another first took place during summer camp, with the first major disaster to hit Camp Mohaven. High winds and tornadoes struck Mohaven the Monday night of Cub Camp. No one was hurt or injured, even though the destruction was tremendous. Though cub campers went home that Tuesday morning, camp staff worked tirelessly to restore the facilities, and within days, were ready to host the remainder of the camp season. The Lord blessed, and as a result, 30 young people gave their lives to Christ through baptism by the end of summer camp.
Our goal in the Youth Department is not just youth ministry on the sidelines of the church but intergenerational ministry for all ages. Adventurers learning with club leaders. Pathfinders exploring with club directors. Summer campers interacting with pastors, adult staff and young adult counselors. All these ministries thrive because multiple generations come together to fellowship, worship, serve and grow in Christ together.