February 23, 2022 ∙ by Web Administrator ∙ in Editorials, This Month's Issue
Editorial by Kelly Butler Coe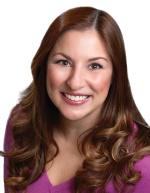 It's hard to believe I've been designing the Columbia Union Visitor for 22 years. By my calculation, I've been privileged to create and shape 301 issues of this magazine.
When it comes in the mail, and you leaf through it, you probably don't realize how much time and effort goes into the finished product. Our team invests countless hours in each issue— meeting, planning, researching, creating and developing content and designs intended to capture and keep the attention of our readers. As art director and designer, I also spend many hours researching color theory, studying current trends and trying out the latest typefaces to appeal to our very diverse, multigenerational audience. And contrary to popular belief, we aren't just "making things pretty." We care deeply about our work, applying principles, strategies and ideals that craft each element in our magazine's design— effectively helping to tell our union's story.
In the Bible, we read that Jesus acted in a similar way, meeting with people, taking time to understand their needs and creating solutions that exceeded their expectations.
Even today, God isn't just making us pretty. He is continually evaluating our needs, working in our lives and developing meaningful strategies to help us become all that we can be. He agonizes over each of us—no detail is insignificant or overlooked. He shapes and molds our characters with the goal of helping us to feel happy and fulfilled—inside and out.
TRUST THE PROFESSIONAL
In Jeremiah 29:11, God promises: "For I know the plans I have for you … plans to prosper you and not to harm you, plans to give you hope and a future" (NIV).
While we know this, sometimes we have other ideas and plans. We worry and strive so hard to control every detail of our lives. Always willing for us to choose, God waits patiently and compassionately until we're ready to entrust our lives to Him—our Professional Designer.
In this issue, we're highlighting some of the ways our members are using their artistic talents and skills for ministry. Their art is more than just a pretty picture; it is an expression of God's imagination, beauty and intelligence. Their work reminds us that our Creator is carefully and lovingly designing His will for our lives, and that, in the end, everything will come together beautifully.
Kelly Butler Coe serves as director of communication, art director and graphic designer for the Columbia Union Conference.