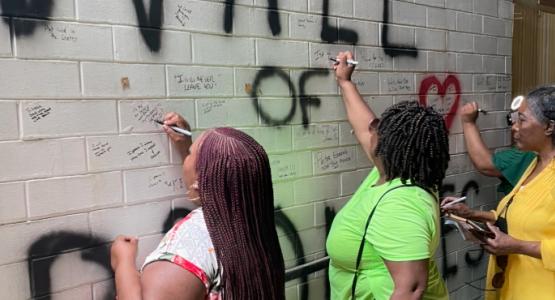 Grace Community Finds Its Place
February 14, 2022 ∙ by Web Administrator ∙ in Allegheny West Conference
Story by Benia Jennings
While at their previous location, the Grace Community church in Cleveland desired to expand their ministry reach by looking for more impactful ways to serve their community.
"We felt like just doing Sabbath worship was not enough for Cleveland. We had a vision that we needed to expand to more of a seven-day-a-week ministry that met people's needs, and our facility at the time could not provide that," says MyRon Edmonds, lead pastor at Grace Community.
Members learned that the building they occupied could not be altered because it was a historical landmark, so they began looking for a facility they could renovate. "We started looking for other facilities and found a former Kmart building in Euclid. It's a massive 120,000-square-foot building, and we got a great deal on the purchase price," Edmonds continues. "The building had the space we needed to do church differently. There was a general sense from many that we'd have to do something different if we were going to reach Cleveland. That difference was the idea of not building a church but rather a community center and seeing ourselves as the church. The philosophical shift was important for us."
The church plans to impact 10,000 families by 2026 by using the community center as a community school. Edmonds says, "This is not a traditional school where you come and get a degree, but a resource center that helps people achieve their hopes and dreams. We've excelled in Christian education as a Seventh-day Adventist Church, but mainly in elementary, high school and university. We thought, what if we made a community school with courses in family, health, spirituality, finance, business and entrepreneurship to add value to the community and have that be the evangelistic strategy for building a relationship?"
Edmonds believes the counsel of "Christ's method alone," found in the book, Ministry of Healing, is more relevant now than ever before: "I think Jesus' entire life and ministry reveals a timeless principle. Nothing can change [unless you] touch people at the core of their existence and meet them at their point of need. If anything, the pandemic has shown us that people have needs, especially people of color in our urban areas, where it's made a bad situation worse, in many instances. ... We should use caution and follow the guidelines [to not get infected or infect anyone]—but there's a lot of ministry to be done. If we can go to the mall, concerts ... then certainly we can feed, educate and help those in need."
The new Grace Community church is scheduled to open this month.