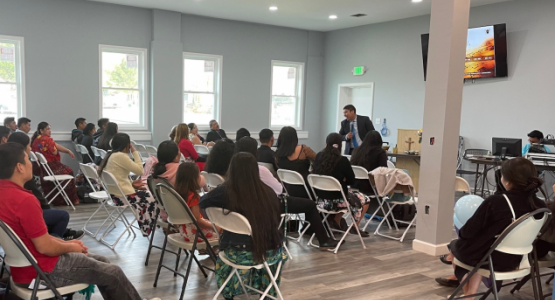 God's Providential Care for Hispanic Work
August 22, 2022 ∙ by rbacchus ∙ in Mountain View Conference
Story by Liz Bailey
Much of Mountain View Conference's West Virginia territory, especially minority groups, still waits to be reached with the Seventh-day Adventist message. One such place is Moorefield, a small town boasting a population of 3,000, with 500 Hispanics.
In 2006, a bilingual Adventist couple, Anita and Quelman Quiroz, arrived in town and began attending the Moorefield (W.Va.) church. The couple saw the need to have a church service in Spanish. Quelman presented the need to Rubén A. Ramos, vice president of Multilingual Ministries for the Columbia Union Conference. Ramos contacted Larry Boggess, Mountain View Conference (MVC) president at the time. They both sensed God's leading, and the vision was born to plant the first-ever Hispanic congregation in MVC.
In 2007, Walter Cardenas became the pastor of the Hispanic group, who met in the Moorefield church building. Unfortunately, transportation issues for many of the Hispanic members called for the group to relocate. In 2016, the 35 members became a company and met in the Presbyterian church in town. Working alongside their new pastor, Heroes Sical, they added 12 to their membership in 2019.
When the pandemic struck in 2020, the Presbyterian church closed its doors. Undeterred, the Spanish company met in members' homes during the week and outdoors on Sabbath. With winter approaching, they bought a 20' x 40' tent to pitch in a member's yard. They worshiped in the cold, sitting in front of space heaters. Three precious souls made the decision to be baptized that year.
The group was determined to buy their own building, and soon an empty school building became available for sale—listing at $125,000. Sical and Victor Zill, MVC's treasurer, examined the building and realized that many repairs would be needed. The seller approved their offer of $75,000, although someone later offered full price, showing them God's seal of approval.
Each household gave $1,000 to start the repairs. One member even worked on the building three months for free. "Members were truly committed, some working at jobs all night and then on the church building in the morning," Sical shares.
The project was divided into two phases. The first phase—renovation of the fellowship hall, kitchen, children's rooms and bathrooms—began October 2021 and the second phase will be the renovation/construction of the sanctuary to accommodate 130 worshippers.
Presently, between 60 and 80 people gather to worship God each Sabbath. "Without a doubt, the Lord is blessing the faithfulness of the Moorefield Spanish Company," says Sical.