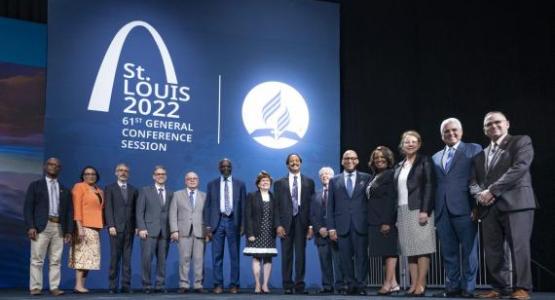 Elected Leaders Include New Faces on Well-Established Teams
June 09, 2022 ∙ by vmbernard ∙ in
Story by Marcos Paseggi / Adventist Review
Delegates to the 61st General Conference (GC) Session in St. Louis, Missouri, United States, voted to accept the recommendations of the Nominating Committee on dozens of church leaders on June 7, 2022. The names voted include several new faces in a team of well-established GC departments, as well as GC Treasury, GC Secretariat, and GC Auditing Services. Those new to their positions are briefly featured below, starting with GC Secretariat, followed by GC Treasury and GC Auditing Service, and concluding with departmental directors.
SAW SAMUEL
Delegates voted to elect Saw Samuel as an associate secretary of the GC. He will fill a position left vacant by John Thomas's retirement. Samuel had been serving as president of the Southern Asia- Pacific Division since 2016.
As a division president, Samuel sought new ways to reach the many Buddhists and Muslims in his region even as he sought wisdom from God to value each day as a precious gift to be used wisely.
He was first elected executive secretary of the division in 2010. Before that, he worked for two years as ministerial secretary of the Southeast Asia Union Mission in Singapore. The rest of his career as pastor and administrator were spent in Thailand, serving as executive secretary of the Thailand Adventist Mission (2002-2008); director of the Leadership Education and Development (LEAD) program at the Thailand Adventist Mission (2006-2008); Youth director at the Thailand Adventist Mission (2002-2004); pastor of the Bangkok Adventist Hospital Church (2000-2002); and chaplaincy coordinator for Seventh-day Adventist English Language Schools in Thailand (1998-1999).
JOSUE PIERRE
Delegates voted to elect Josue Pierre as an associate treasurer of the GC. Since 2016, he has been serving as associate general counsel of the GC. Prior to joining the Office of General Counsel, he served as an associate county attorney with the Prince George's County, Maryland, Office of Law from 2012 to 2016. Pierre, a Juris Doctor (George Washington University), is a member of the Maryland and District of Columbia bars in the United States. His practice areas include contracts, transactions, real estate, purchasing, procurement, and data protection.
RICHARD STEPHENSON
Richard Stephenson was elected as an associate treasurer for technology operations and strategy. Before his election, he was serving as director of Information Technology (IT) services for the North American Division (NAD).
Stephenson became IT director for Madison Academy in Tennessee in 2005. In that role, he launched one of the first one-to-one laptop programs in the NAD, equipping every student with a laptop and printer, and leading the shift to an online learning environment. In 2008, he transitioned to director of IT for the Kentucky-Tennessee Conference, its first full-time IT director. Stephenson placed significant emphasis on educational technology for the dozens of schools in the conference.
In 2009, Stephenson accepted the call to serve as associate director of IT for the Southern Union Conference in Georgia, and in 2013, he became IT director in that region. Under his direction, the Southern Union began to host centralized payroll and accounting at the union office, as well as many other services, on behalf of its conferences.
Stephenson loves to integrate technology into the organization in a way that produces positive change.
Read the entire article at: https://adventistreview.org/gc-news/elected-leader-include-new-faces-on-well-established-teams/
News Stories from #GCSession