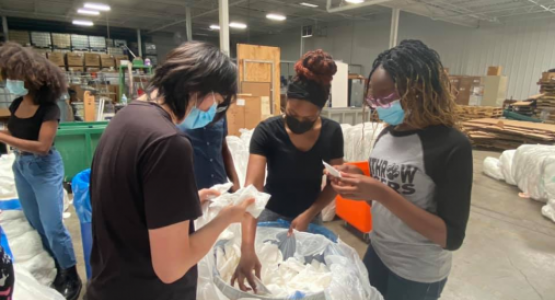 Clifton Church Growing Young, Growing Together
February 16, 2022 ∙ by rbacchus ∙ in Ohio Conference
Story by Kojo Twumasi
Ohio Conference's Clifton church has been focusing on younger generations this year. The congregation, located in Cincinnati, is a multi-generational and diverse community. The leadership, however, wanted to remain intentional in next generation ministry after joining the Ohio Conference Youth Department's Growing Young cohort.
Growing Young is a church transformation process designed to foster integrational worship, fellowship and service. At the outset of 2021, Clifton church leaders identified three Growing Young strategies they wanted to accomplish. First, empathizing with today's young people by stepping into their shoes instead of standing in judgment. Second, fueling genuine peer and intergenerational friendships. Third, neighboring others well by enabling young people to be the hands and feet of Christ in their community and the world.
This has resulted in the young and not-so-young coming together in vibrant ministry and community. Members joined forces with the Clifton young adult group, High School Ministries and Connect to Christ Middle School Ministries for events such as community service at Matthew 25 Ministries—a local nonprofit; game nights; local group hikes; Friday night vespers events where young adults mentored high schoolers; a back-to-school church revival service; baptismal classes; and Pathfinder/ Adventurer activities.
Danaan Foster, parent and Pathfinder co-director at the Clifton church, says, "It's encouraging to see what's going on here at Clifton, because, with so many dying churches around, our community has become a vibrant home for our youth. The most exciting thing out of this are the baptisms! So many of our youth are wanting to get baptized at our church because of how engaged and genuine our church leadership are with our youth."
Members agree that this past year they have truly seen renewed vision and enthusiasm for vibrant community, growing closer to Christ and one another.