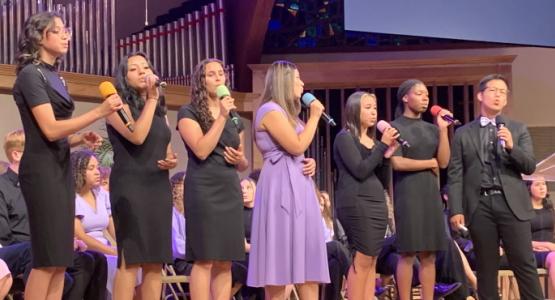 56 Seniors Dedicated to Follow God's Calling
November 29, 2022 ∙ by Web Administrator ∙ in Potomac Conference, Education
Story by Janel Haas Ware
At the recent Shenandoah Valley Academy Senior Dedication, Principal Don Short placed the Class of 2023—made up of 56 seniors—into God's loving care during his dedication prayer:
Dear Father,
What a tremendous collection of dreams, hopes and desires on the platform this evening. It is with those dreams and desires that we come to you as teachers, administrators, parents, grandparents to ask for Your help.
The task is tremendous as we seek to raise our young people in the way they should go, that when they are old, they will not depart from it. You know there are many obstacles that would take each one of us away from the plans that You have for us. And so tonight we want to submit to You. We come before you in a simple and honest way to say that You have given each student here as a gift. Now we come back to You and dedicate these young people to You.
They have a tremendous influence. What an incredible amount of potential. It is staggering potential for good. We know within every Christian's sphere of influence, each one has the privilege of being an influence for good, to help others. May we set ourselves aside long enough to lend a helping hand.
And that is our prayer for our seniors as we dedicate them this evening, that when we come to the end of the school year and they're ready to make the next step, they can say their legacy is a positive one where they have helped others to know you better; they have answered the call and claims they have felt that You make in their lives; they are prepared to make that step and to serve others.
It is for these things that we come to You this evening, we pray for these things and dedicate this senior class. In the name of Jesus, Amen.