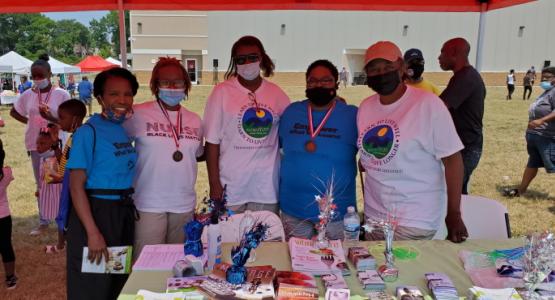 Shiloh Cincinnati Partners With Baptist Church
November 30, 2021 ∙ by Web Administrator ∙ in Allegheny West Conference
Story by Benia Jennings 
The Shiloh Cincinnati church continues to "Impact the City" of Cincinnati with the gospel of Jesus Christ. As back-to-school season approached, many churches geared up to do their annual school supply drive. This year, Bryant Smith, pastor of Shiloh, and his members in the Avondale neighborhood wanted to approach things differently.
Smith and church leaders combined forces with the Corinthian Baptist church in the Bond Hill neighborhood to leverage resources and influence to impact people in Hamilton County.
The churches served more than 500 people, providing them with free haircuts, COVID-19 vaccinations to those over the age of 12, book bags, school supplies, vouchers for shoes, clothing and free food. Kids learned about the Seventh-day Adventist message, received Sabbath School lessons and Steps to Christ books, and had the opportunity to sign up for Bible studies.
"The work that is being done here today is extraordinary, and the partnership between the two churches is incredibly exciting," says John Spencer, an event attendee.
Shiloh's NEWSTART ministry volunteers (pictured) educated attendees about the health message of the Adventist church.
"I can see that this will not only be a one-day partnership, but for years to come. This has been a blessing, not just for these two churches, but for the city of Cincinnati," says KZ Smith, pastor of Corinthian Baptist.
"As we continue to be the church in this post COVID-19 landscape, we need to find ways to meet people where they are and take the love of Christ to them," says Smith.