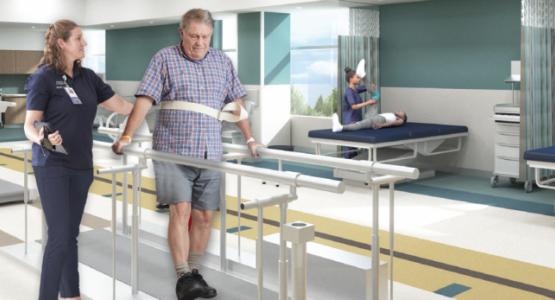 Rehabilitation Moves Into White Oak Medical Center
December 16, 2021 ∙ by rbacchus ∙ in Adventist HealthCare
Story by Adventist HealthCare Staff
Adventist Rehabilitation recently opened the doors to a new inpatient rehabilitation hospital inside of Adventist HealthCare White Oak Medical Center in Silver Spring, Md.
Relocating from its previous Takoma Park location, Adventist Rehabilitation approached the design of the new two-floor, 42-bed hospital from the patient perspective first. In keeping with studies that show thoughtful design can improve outcomes and speed recovery, the new hospital will provide:
All private rooms – to provide comfort, quiet and privacy
Two recovery gyms – to provide space for patients who enjoy a more active environment and space for those who require less distraction and lower stimulation
Day rooms on both floors – to provide a place of respite and community with kitchenettes, sofas, eating tables, computers and TVs
Ceiling track systems – to assist each patient safely to their private bathroom
An Activities of Daily Living (ADL) apartment – to help patients prepare for independent living by practicing real-life activities such as cooking, cleaning and dressing
Inspiring artwork – to feature artists of the Mouth and Foot Painters Association or showcase local nature scenes
Accredited by the Commission on Accreditation of Rehabilitation Facilities (CARF) in all four of its specialty areas – amputee, brain injury, spinal cord, injury and stroke – Adventist Rehabilitation offers high-quality care that patients trust. Additionally, Adventist Rehabilitation promotes long-term total health by offering support groups, both in person and virtual, as well as a Peer Visitor Program, which connects current patients and family members with former patients who can provide guidance and hope.