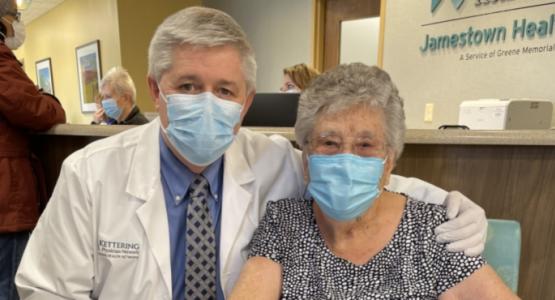 March 24, 2021 ∙ by Web Administrator ∙ in Coronavirus Pandemic, Kettering Health
Story by Christina Keresoma
Emotions ran high and spots filled up fast as Kettering Adventist HealthCare opened clinics for the community to receive the COVID-19 vaccine. Kettering Adventist HealthCare has been working closely with local health departments and the Ohio Department of Health to make it easy for the community to receive the vaccine and make it widely available to people who qualified, in accordance with the guidelines from the Ohio Department of Health. Vaccination for people age 80 and above started on January 19, and the Ohio Department of Health continued to adjust guidelines each week to include more people, dropping the age guideline in five year increments.
"This vaccine brings hope of a return to normalcy, and we are grateful for the support of state and local partners as we take this next step and continue responding to the needs of our community," said Brenda Kuhn, chief clinical officer for Kettering Adventist HealthCare.
During one of Governor DeWine's press conferences, Kettering Adventist HealthCare vaccinated two community members. Kevin Sharrett, MD, vaccinated Iola Cramer, 101, of Jamestown, while Thomas Brunsman, MD, vaccinated Alfred McDaniel, 98, of Xenia.
Another special moment came when 97-year-old Joe received his vaccine at one of the clinics. What made that moment extra special for Joe was that his grandson Zachary, a pharmacist with the network, administered the shot.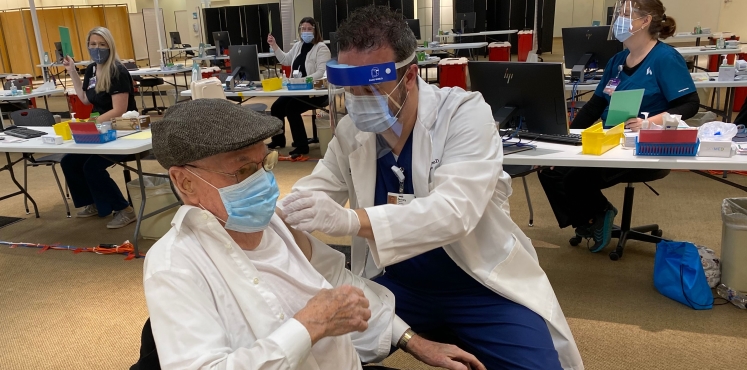 Tears were flowing as the elderly received their first dose of the vaccine. This shot has given them hope for a better tomorrow. Fred Manchur, CEO of Kettering Adventist HealthCare, has been visiting the clinics daily. "It's been our privilege to partner with our state health leaders in getting these vaccines to our community members—especially those most vulnerable," Manchur said. "Throughout this pandemic, our entire focus has been to be the hands and feet of Jesus to those in need. These clinics provide us with the chance to be a light in what has been a very dark time, and I'm proud of our team for stepping up and serving selflessly."
2021 started with a feeling of hope because of the administering of the vaccine. Frontline workers were placed in Phase 1A due to the direct contact with COVID-19 patients. Phase 1B focused on the most vulnerable age group, bringing hope to a population who was quarantined from loved ones and friends. Many people may think the vaccine is from new research, but it was started during the SARS and H1N1 scare many years ago. "Millions of people have received the vaccine. We're just not seeing serious side effects," says Jeffery Weinstein, MD, patient safety officer for Kettering Adventist HealthCare.
Plans are being developed to continue opening new clinics as the phases progress and the number of available vaccines increases.