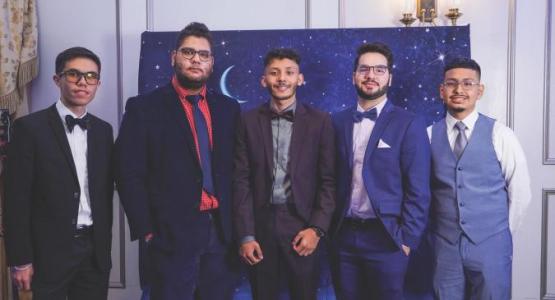 Lake Nelson Adventist Academy Launches Satellite School Program
October 20, 2021 ∙ by rbacchus ∙ in New Jersey Conference, Education
Story by Sierra Breanna
In 2013, the high school expansion at New Jersey Conference's Lake Nelson Adventist Academy (LNAA) opened windows of opportunities for students and teachers alike. The school is now a place where high school students can receive honors, college credits in several courses, awards and other opportunities in a Seventh-day Adventist environment. With the recent development of a new satellite school program, LNAA will now be able to share these opportunities with students from another school.
The idea for the satellite school program materialized when Ruth Nino, principal of the Waldwick Adventist School (N.J.), reached out to LNAA principal Elisa Maragoto last fall. Maragoto says it was a great opportunity and a beneficial addition for the schools to partner, allowing 11–12 grade students to receive live instruction, expanded leadership and social-emotional learning opportunities and have the ability to have an academy experience, all while completing high school graduation requirements and receiving a diploma under LNAA's provision.
Once the two school boards approved the idea for the satellite program, the process to develop each component, including curriculum, financial implications and the opportunities for the partnership began, with guidance from the Columbia Union Conference.
After completing the Substantive Change Program Report—a necessary part of the process—and hosting a visit from the North American Division Office of Education, the partnership program was officially approved and implemented for the 2021–22 school year.
LNAA continues to modify this new venture, expanding the educational opportunities offered to students across the territory. The new satellite program is a great way for students from two different schools to unite at events like the combined High School Banquet. It also gives an opportunity for teachers to learn as they work together and continue to grow in their teaching abilities. By God's grace, this will be a long-term project from which many students and teachers will benefit.