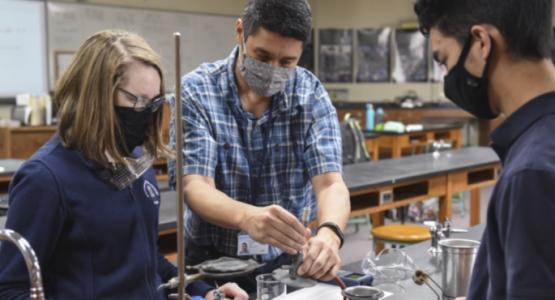 Kneeling, I Breathed, 'Oh God, Be Glorified!'
May 26, 2021 ∙ by Web Administrator ∙ in Coronavirus Pandemic, Education
Story by Darlene Anderson
Standing in my office, I paused to acknowledge reality: We have COVID-19 on campus, and, by all appearances, it's spreading.
As school nurse, I was exhausted and knew other faculty and staff were too. We had been working day and night to mitigate the five COVID-19 cases students brought to Shenandoah Valley Academy (SVA) following Christmas break. Each case required isolation, contact tracing, quarantining for possible exposure, symptom checks, calls, emails, contacting the Virginia Department of Health (VDH), scheduling COVID-19 tests and transportation—so many details. Now, within a day's time, we had three new cases. Would we be forced to have a temporary shutdown?
I remembered our sudden school shutdown last spring break: students at home struggling to share internet access, often while caring for siblings. They lost so much, including saying goodbye to friends and teachers. More recently, a new student shared he is blessed to attend in-person school. At the start of September's home leave, another student shared: "Remember after last home leave, we never came back." I recalled a pediatrician talking about seeing suicidal children daily when pre-pandemic was a handful each month. With each thought, it came to me: We need to be open to minister to students! Dropping to my knees, I breathed, "Oh God, be glorified!"
The faculty and staff team, as well as the students, worked hard. We quarantined, tested, delivered meals, cleaned, monitored for symptoms and followed mitigation protocols. It was a challenging time—it is a challenging school year. But we are committed because the result is worth it.
The VDH encouraged us, "You guys are doing a phenomenal job!" The virus did spread from the initial five to three other students. Then, we began receiving negative test results daily. With careful measures, we contained it with no further spread on campus! A new VDH epidemiologist assigned to SVA gasped as she heard the story: "Thank God! We wish this was happening with all schools." Two weeks after receiving our first positive test results, students, parents, staff and the VDH were informed: "We currently have zero students quarantined, zero test results pending and zero students on the sick list."
We planned ahead for an extended January leave to give everyone some rest. However, we were blessed to do it without the fear induced by an emergency shutdown. With God's blessing, we have and will continue to fulfill the SVA mission to educate students as disciples of Jesus. Through the most recent challenge, God was glorified to students, to the VDH and in all of our hearts. We cannot be sure what the months ahead will bring, but we are on our knees praying, "Oh God, be glorified!"