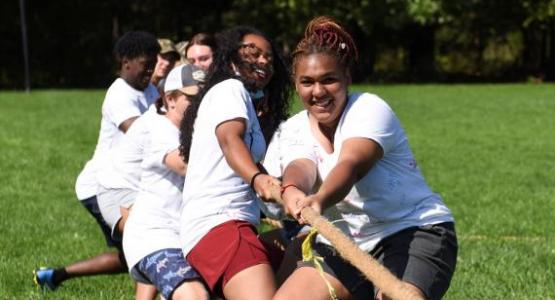 The Icing on the Cake: 'SVA Family' Fun
November 17, 2021 ∙ by rbacchus ∙ in Potomac Conference, Education
Story by Jaclyn Knight
At Potomac Conference's Shenandoah Valley Academy (SVA), students build positive relationships with Christian mentors who truly care about them—a rare and valuable experience. Answering the call to a Seventh-day Adventist boarding school as a faculty and staff family means to choose a lifestyle in which the students are an integral part of your life. And that is what we cherish when it comes to living and working at SVA. The students are what make our life and work so special.
At SVA, the students, faculty and staff form meaningful relationships. Together, our "family" enjoys events like Student Association (SA) Picnic and Almost Anything Goes (a class-on-class fun night). These events are the icing on the cake, making boarding academy life a fun, unique experience. The teamwork required at these fun events makes the school campus family strong and helps bind us together to conquer challenges and goals.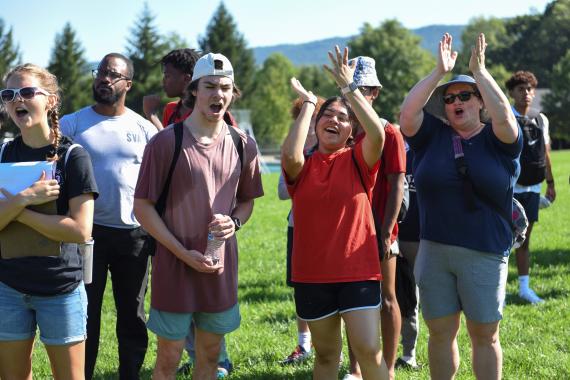 It's rewarding to watch faculty and staff sponsors mentor students and participate in the fun. This year at SA Picnic, five faculty and staff men: Daniel Biaggi (music), Joe Lowe (recruiter, personal finance), Derek Raymond (work coordinator, maintenance), Kaleb Leeper (vice principal, religion) and Vernon Hsu (physics, calculus) participated in the belly flop contest. The students remembered that last year Mr. Leeper did a huge belly flop, so this year the students chanted, "Leeper, Leeper, Leeper!" to get him on the diving board.
Often students build relationships with our extended families, including faculty kids. The students and kids have limitless energy, creativity and excitement, as they laugh and play together. Yesterday, I watched faculty kids play yard chess with a group of students, take photos of the action and enthusiastically cheer them on. The students even let my 6 year old play soccer goalie for a while and adjusted their play accordingly. The children and students are learning valuable skills while engaging with various age groups. These types of interactions are a big part of what makes us "SVA Family."