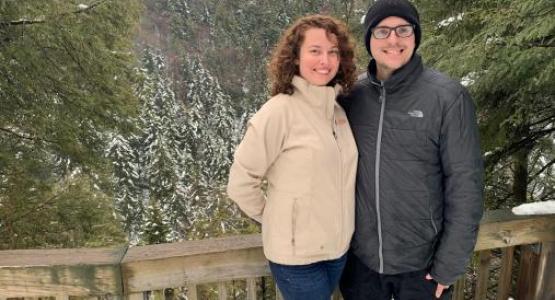 God Calls Couple to Come Home
December 02, 2021 ∙ by rbacchus ∙ in Mountain View Conference
Story by Valerie Morikone
Donald West (known as DW) was born and raised in Parkersburg, W.Va. When he was 9, DW and his parents, Don and Leona, joined the Parkersburg church.
DW began attending Parkersburg Academy and was soon involved in Pathfinders, youth leadership, music and even preaching. After sixth grade, DW attended public school. Five years later, a calamity in his family resulted in him leaving the Seventh-day Adventist Church. "I began to follow my dreams of becoming a rock star," shares DW. Amber, DW's wife, was born and raised in Kanawha, W.Va. "I grew up with my father showing me the simple ways of life," she says. "At a young age, I told my grandmother and mother that I had Jesus in my heart and wanted to be baptized."
Amber joined the Methodist church and was very active until the youth pastor left. "I felt alone, and my life started to flip upside down," she says. Amber's parents got a divorce and her mom moved out. "Then, when my father died in 2007, my world stopped. I was mad at God for taking him away, and I lost all faith."
DW and Amber met at Parkersburg High School, a senior and sophomore, respectively. After he graduated, he moved to Columbus, Ohio, and started a recording studio and record label. But soon DW moved home to be closer to his parents, separating the two of them.
When they reconnected years later, Amber had just ended a toxic relationship of seven years and was trying to find her purpose in life.
DW says, "Amber and I began dating, got engaged and married. But then I began to selfdestruct while managing my music career and professional wrestling company. I returned to the Parkersburg church a couple of times. In 2017, my father passed away and I called Daniel Morikone, pastor of the Parkersburg church, to conduct the funeral.
In 2019, one of my academy classmates, Kerra Ball, invited me to attend Ten Days of Prayer. I came one night and was convicted by the Holy Spirit. Amber and I were not well—we needed Jesus! I began to attend Wednesday night Bible study, and I rejoined the Adventist church. I became involved at Parkersburg Academy, working with the students, and Pastor Morikone mentored me as I realized that my calling was to become a pastor."
Amber says, "My husband was involved with the church, but I had no interest. Our relationship was on the rocks. DW pled with me to attend services, and I finally agreed, trying to be supportive and do anything to help our marriage. I was welcomed with open arms. I enjoyed the pastor's sermons and soon became acquainted with the members of the church."
In 2019, Amber attended the Mountain View Conference (MVC) Women's Retreat. When guest speaker, Linda Johnson, spoke about her father's death, Amber says, "That hit me deep down in my soul. A few weeks later, I woke from a dream in tears. In my dream, I was standing inside the Parkersburg church, and in front of me was a man dressed in a black robe with open arms. I ran and hugged him, and it seemed that my father was hugging me. At that moment, I realized that it had been God—my Heavenly Father—watching over me, loving me always and guiding me, even when I didn't believe in Him."
In God's miraculous ways and perfect timing, in 2020 DW was appointed assistant pastor for the Point Pleasant (W.Va.) church, and also had the honor of baptizing Amber. This year, Amber joined the MVC office team as the administrative assistant to the president.