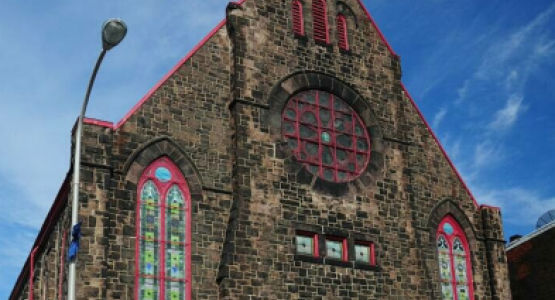 Ebenezer Church Celebrates 110 Years of Ministry
June 15, 2021 ∙ by rbacchus ∙ in Allegheny East Conference
Story by LaTasha Hewitt
Allegheny East Conference's Ebenezer church in Philadelphia is celebrating 110 years of ministry this year, and members plan to celebrate all year long. When considering the year's theme, church leaders reached out to former members, friends and the community. "There's No Place Like Home" seemed to capture the sentiments of those involved. Wanting to also consider the future, they added the subtitle: "Honoring Our Past and Shaping Tomorrow."
The original 16 members of the Ebenezer congregation came from an integrated group formed by the East Pennsylvania Conference in 1908. In 1911, this group formed the first black Seventh-day Adventist Church in the area. Many new converts were added to the congregation through successful evangelism. This growth led to the 1930 purchase of the church's permanent location at the corner of 15th and Christian streets.
The anniversary activities celebrated Ebenezer's legacy of leadership. Several former members have gone on to serve the Adventist church in various capacities, including Henry J. Fordham III, current Allegheny East Conference president.
Many ministries in the Philadelphia area began at Ebenezer, including the Larchwood School, a Pathfinder club, the Ushers' Federation, the Missionary Volunteer Federation and the down payment for the Pine Forge Academy property and grounds. Also, all other area churches in Philadelphia sprouted out of Ebenezer. The 110th anniversary celebration gave the church the opportunity to implement a new approach to neighborhood ministry: to reach the Southwest Center City Philadelphia community
through financial and ministry support.
"I am humbled and honored by the privilege to serve God and be a part of the history of the 110th yearlong celebration of Ebenezer church," says Carlos McConico, pastor. "I believe legacy is planting seeds in a garden that you will never get to see fully grow. Only in eternity will we realize the full scope of Ebenezer's work here on earth."