Columbia Union Treasurer Experiences Miracles on Mission Trip to Ghana
August 12, 2021 ∙ by vmbernard ∙ in 5 Things You Should Know, Columbia Union News
Story by V. Michelle Bernard
This summer, Emmanuel Asiedu, Columbia Union treasurer, and his wife, Annette, hosted evangelistic and health seminars in Kumasi, Ghana, resulting in 10 baptisms, 50 Bible studies and many answers to prayer.
Before the meetings at the Atwima Maakro church started, the Asiedus prayed that God would hold back the rain that always comes at this time of year—something that makes the roads undriveable. "We never experienced rain," reports Asiedu. "It rained in the next city, but not in our city—allowing people to attend the meetings."
After the last meeting, it started pouring.
Every morning, members gathered for prayer sessions. Asiedu then presented financial training sessions to local union, conference and school leaders. At the nightly meetings, Asiedu preached on the theme, "If I Were You," from Job 5:8–9. In the passage, Eliphaz encourages Job to ask God for miracles in his life. Asiedu shared with the attendees that they could have hope through God in their everyday struggles too.
Every day, he also met with people who wanted guidance on issues they were dealing with—marital problems, unemployment, infertility, demon possession, etc. Putting the theme into action, they asked God for direction.
"When I was going there, I didn't know counseling would be part of the program," says Asiedu, who prayed about how to help them. "Anytime someone came with an issue, God would impress me with a Bible verse to share." They then prayed together over the issue.
Asiedu reports that before leaving, 15 people shared direct answers of burdens being lifted.
"I saw the promises of God becoming real during the meetings. So many people felt they had been liberated from struggles, like unemployment, demon possession, marriage issues, etc.  … God made it possible. It was very fulfilling to hear how God delivered," he says.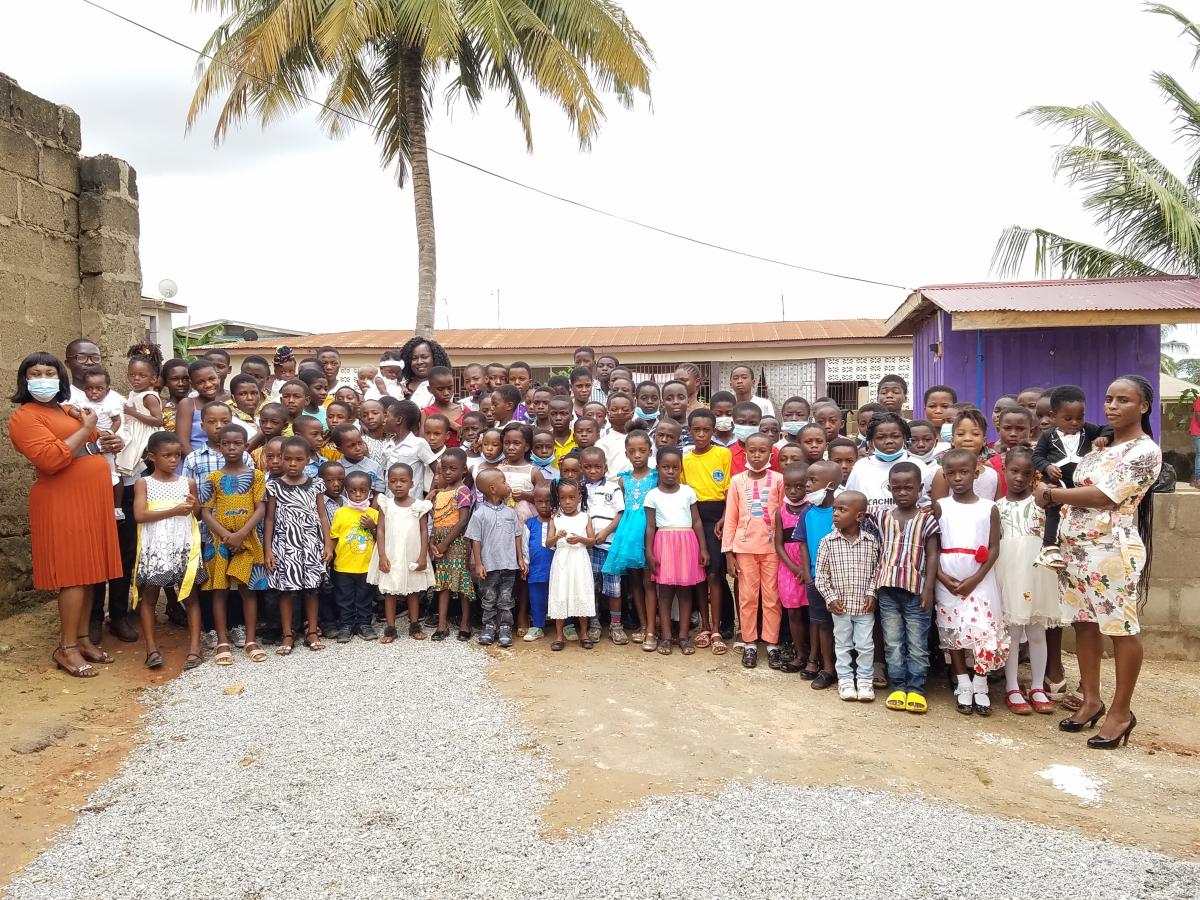 While Emmanuel was counseling and training, Annette (pictured above with meeting attendees and volunteers), a registered nurse, conducted health programs and presentations to groups of 100.
The couple also distributed 300 Words of Life books—the 2021 Year of the Bible devotional written by Columbia Union members.
Many expressed thanks for the inspiring book. One of the elders who distributed them said they had never read a devotional book like it—written by members, students and pastors—not professional writers—who shared the same kind of experiences they go through.
"When we came back, our whole outlook changed," says Asiedu. "You see the gospel ministry differently. It makes the passion you have for God and the Bible stronger. I wish every single person would be able to experience this."