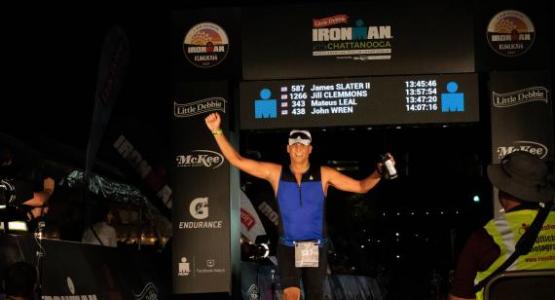 Blue Mountain Academy Alumnus Raises $30k During IRONMAN
September 29, 2021 ∙ by vmbernard ∙ in Pennsylvania Conference, Education
Blue Mountain Academy (BMA) alumnus Jim Slater ('85) had already completed three IRONMAN events. But this year, when IRONMAN Chattanooga was scheduled on the anniversary of when he broke his neck, became paralyzed, stopped breathing and almost died while a freshman at BMA, he was especially excited to participate. 
The timing reminded him of God's deliverance and healing, which inspired him to pay it forward. He contacted his alma mater about raising money for worthy student scholarships in what would later be coined the "Race for Eternity" fundraiser. School leadership was enthusiastic about his plan and helped spread the word about the event.
On September 26—after a combined total of nearly 14 hours of swimming (2.4 miles), biking (116 miles) and running a marathon (26.2 miles)—he raised $30,000 for students desiring to attend the school. The funds will help approximately six students.
When asked about his inspiration, Slater says he focused on helping others take their own experiences to see how God could use them for His glory. He encourages others to "take a look at what God has done in your life and determine … if maybe He intended that to be far bigger."
Slater adds, "You have the opportunity to reach out and make an impact on other people's life because of what God has done for you."
"Blue Mountain Academy is proud to have worked with this initiative and is looking to inspire new generations for leadership in a world of need," says Ruben Olm, BMA's director of Enrollment/Marketing and Development.