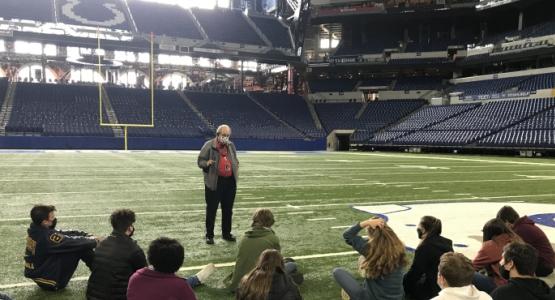 Band, Choir Members Experience 'Spectacular' Outing
July 13, 2021 ∙ by Web Administrator ∙ in Ohio Conference, Education
Story by Lisa Moller
The big screen at Spring Valley Academy's (SVA) Performing Arts Center flashed sports highlights and dynamic ESPN-style graphics to introduce the theme for the upcoming 2021–22 music season: "SVA Sports Spectacular."
This theme, a close secret kept by band conductor Donald Huff and choral conductor Cristy Doria, set the agenda for a daylong field trip to Indiana, where band and choir members visited the Hoosier Gym, Lucas Oil Stadium and Indianapolis Motor Speedway.
The ride to Indiana offered an opportunity to screen the 1980s movie classic Hoosiers, the story of a small-town basketball team and the coach who led them to victory in the state finals. Based on a true story, the fictional town of Hickory found its gymnasium in the real town of Knightstown, Ind.—the first stop of the day.
Students were led through the gym and its movie memorabilia by expert volunteer guides who brought the film to life in every corner of the building. Students especially enjoyed the opportunity to shoot basketballs on the 1934 vintage hardwood court. Senior basketball enthusiast Eric Grant says, "Not only did we shoot, we played a game."
Then they visited Lucas Oil Stadium, home of the NFL team Indianapolis Colts. Music students scored an all-access tour from the top of the stadium with its retractable roof down to the AstroTurf playing field.
While memorable for the students, it was also memorable for their tour guides; this was one of the first tours that the stadium granted since the pandemic began. The 50-yard line provided a great opportunity for a photo op, as students took in the huge expanse of the pro stadium.
Students were then given the slowest ride on the fastest track—a shuttle bus tour of the famous track at Indianapolis Motor Speedway, complete with a history lesson. An Indy 500 tradition, students had the opportunity to "kiss the bricks" at the strip of the original brick racetrack that constitutes the finish line. For the gearhead, the track's museum had cars of every color and vintage displayed and the progression of automotive technology from the 1911 Marmon Wasp to the Indy cars of today.
The trip had enough variety that sports fans and nonfans alike enjoyed it. Senior Imani Hughes says, "It wasn't something that [my friends and I] were first interested in, but it turned out interesting." Sophomore racing enthusiast Michael Crite sums up the experience: "I've never been to a football field when it's empty; I've never been to a historic basketball gym; and I've never been to a motor speedway, so it was all really cool for me."