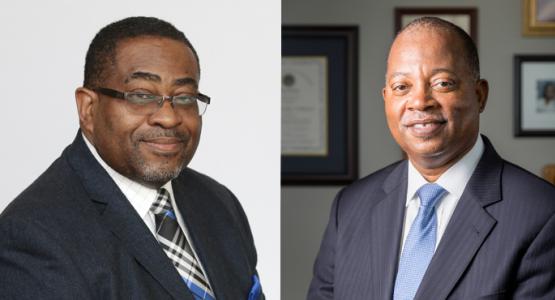 Allegheny East Conference Appoints President, VP for Administration
September 29, 2021 ∙ by vmbernard ∙ in Allegheny East Conference
Story by LaTasha Hewitt
Members of the Allegheny East Conference (AEC) Executive Committee recently appointed two administrators at a special executive committee meeting.
The untimely death of Henry J. Fordham III, former AEC president, left a vacancy in the presidential role. The committee appointed Pete Palmer to assume the office, vacating his previous role as vice president for administration. Marcellus Robinson, AEC's director of Stewardship/Philanthropy and Planned Giving since 2018, was selected as the vice president for administration. Both leaders will hold their post for the remainder of the term, and the executive committee will elect the entire leadership team at the next constituency session in October 2022.
Palmer was elected as vice president for administration in October 2017. Prior to that, he served for 10 years as the senior pastor of the Germantown church in Philadelphia. He is now ready to embrace his newest role as president. "I am deeply humbled by the mercy and grace of God, as well as the confidence that the executive committee has placed in me, by charging me with the awesome responsibility of leading our great conference," he says.
Prior to Robinson's role in Stewardship/Philanthropy and Planned Giving, he was the vice president for administration. He has also been the ministerial director and a pastor within the conference. Regarding the appointment, Robinson says, "I'm excited about the opportunities and possibilities that exist in service for God, as well as the Allegheny East family and community in working together with new leadership team members and fellow partners in ministry."