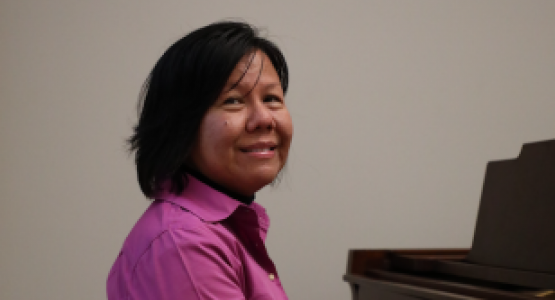 Washington Adventist University Launches Music Therapy Program
February 06, 2020 ∙ by rbacchus ∙ in Washington Adventist University
Story by Daniel Lau
It is with great pleasure that Washington Adventist University announces the hiring of Ms. Melanie Kwan as Program Director of Music Therapy. Ms. Kwan received her Bachelor of Music Education and Bachelor of Arts in English Literature degrees from Andrews University, a Music Therapy Equivalency from Arizona State University, a Master of Music Therapy from Temple University, and is currently pursuing Doctoral Studies also from Temple University. She brings a broad range of clinical experience with a wide variety of client populations (from special education to home-based and community, to hospital and mental health) and has served as an educator and music therapist in the United States, Canada, and parts of Asia. She has been an active member of numerous Music Therapy advocacy groups, including serving as past president of the Association for Music Therapy Singapore, has organized and presented at various symposiums and conferences on music therapy, and has published widely in peer-reviewed journals. A board-certified music therapist, Ms. Kwan, also served as Regional Liaison (Western Pacific) for the World Federation of Music Therapy. When not mulling over resiliency and positive coping in the hospital setting, she enjoys animals, hiking, travel, and cooking.
"It is exciting to be a part of the new Music Therapy program at Washington Adventist University, to tap into WAU's rich musical roots and culture, and I welcome the opportunity to integrate Adventist faith-based models of healthy living into trauma recovery, managing pain, reducing stress, and community building using music," states Melanie Kwan.
WAU Chair of Music, Dr. Daniel Lau adds, "The addition of Director Kwan to our faculty is cause for celebration. Among a crop of highly qualified music therapists, Ms. Kwan stood above the rest for her clinical experience, enthusiastic Music Therapy advocacy, and academic reach. Being that she is committed to bringing Music Therapy to the SDA world community is an added bonus!"
A Brief History of Music Therapy
Although Music Therapy is new to WAU, the first college Music Therapy programs began in the 1940s.
As Ms. Kwan explains: "Traditionally, most aspiring musicians navigate one of two tracks–performance, or education. Music therapy, with its formal beginnings during the Second World War, is the 'here-and-now' career in that it relationally meets people where they are, whether one is feeling down, or celebrating a milestone such as new birth. Music therapy is also the 'career-of-tomorrow' because researchers have barely uncovered how the brain processes and organizes auditory input. Over the past decade, there have been exciting developments in applying music strategically
towards rehabilitation, medical, and health-promoting outcomes."
Washington Adventist University is the First to Offer Music Therapy Programs in Maryland
WAU is the only college/university in Maryland to offer a Bachelor of Music in Music Therapy and Music Therapy Equivalency. Both programs will qualify students to sit for the Certification Board for Music Therapists examination, which will result in the MT-BC credential (Music Therapy Board Certified).
The Bachelor of Music in Music Therapy is a four-year degree program. Building on the already excellent music traditions at WAU, the Music Therapy core consists of 38 credit hours that will introduce, reinforce, and instill music therapy core competencies as defined by the American Music Therapy Association (AMTA). Additionally, students will receive training in a major instrument as well in voice, guitar, piano, and percussion. Four semesters of Music Theory, four semesters of Musicianship, four semesters of Music History, participation in music organizations and ensembles, performing a junior recital, and general education requirements round out coursework for this degree.
The Equivalency Program in Music Therapy is designed for those who already hold an undergraduate degree (most typically in music, music performance, or music education), but who wish to complete requirements for professional certification as a music therapist. Rather than completing a second bachelor's degree, the student completes courses that will teach competencies required for professional certification. For most equivalency students, the program requires three semesters of on-campus study (usually part-time), followed by a 6-month required internship. Some students will need additional credits, which will necessitate at least a semester longer to complete the equivalency program. For example, students with undergraduate degrees in areas other than music must complete essential coursework in music in addition to the music therapy equivalency curriculum.
Following coursework (usually three semesters for equivalency students and seven semesters for Bachelor's students), the student must complete a 6-month internship at an AMTA approved clinical site. The student is then eligible to sit for the national examination in Music Therapy offered by the Certification Board for Music Therapists. Upon passing the exam, the MT-BC credential (Music Therapist-Board Certified) is granted.
Music Therapy @ WAU – Unique in the Seventh-day Adventist Tertiary System in North America
The Music Therapy programs at WAU are the only of their kind in the Seventh-day Adventist tertiary system in North America. WAU President Weymouth Spence states, "The Music Therapy programs at WAU demonstrate the marketability of a creative art desired by many of the current generation of student leaders. It further enhances our mission of producing competent moral leaders in a rapidly changing 21st century."
"For interested music therapy students, exciting futures await – if you are looking beyond book learning, to grow, to be challenged, and to develop your potential within music, and likewise, to thoughtfully, purposefully, and actively make a difference in others through music, this will be the start of a lifetime adventure of discovery! Music therapy is a calling. It is immensely fulfilling to draw persons who may not be able to communicate in the usual ways out, to motivate survivors of stroke or Parkinson's to move, or to challenge children with learning differences to attain the next level of achievement," states Melanie Kwan.
For more information, please go to wau.edu, music@wau.edu, (301) 891-4025.