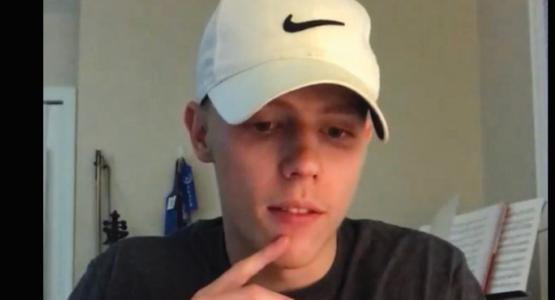 Students Live Out Prayer Life
October 13, 2020 ∙ by Web Administrator ∙ in Coronavirus Pandemic, Pennsylvania Conference, Education
Story by Esther Hernandez
"[This year] has been a memorable year for the family of Blue Mountain Academy," says Sanghae Kim, Bible teacher and pastor of the Blue Mountain Academy (BMA) church. "Due to the COVID-19 outbreak, the school closed as it was finishing a Week of Prayer. God blessed even that moment with six students getting baptized. And our spiritual revival has not stopped. Henrique Da Silva, a senior at BMA, and other leaders, started a prayer initiative each day at 9 p.m., calling for prayer for God's protection and guidance. ... Each Wednesday a group of students meet with me online to study The Great Controversy and to pray together."
Jared Chandler (pictured), a Class of 2020 graduate says, "We need to learn more about prayer." After spending the spring praying online each evening, Chandler suggested students and staff study and go deeper in prayer.
"We decided to read the book, Prayer, by Ellen G. White. Each evening at 9 p.m., a student or staff member summarizes a chapter and then prays. We are experiencing the power of prayer together."
BMA members take one of the 32 chapters, record themselves summarizing it and close with prayer. The videos are later shared on BMA's Facebook and Instagram pages. "Even if this doesn't impact lots of people online, we have noticed the students are learning and growing in their understanding of prayer," shares Esther Hernandez, BMA's marketing and communication coordinator, who posts the videos.
Yihang Gao and Wenfei Yu, both 2020 seniors, were not raised in Christian homes and never understood why others prayed "in Jesus' name." After reading chapter 20, they share: "We finally understand why we need to pray in Jesus' name and the meaning behind it ... . To pray in Jesus' name is a reminder to love Him also, to become like Him, to accept Him into our lives ... . To pray in Jesus' name can also bring us power and confidence ... and reminds us that He is always with us."
Kim adds, "God has answered many prayers, and we believe He will continue to answer. Join us in praying and being a part of this spiritual revival!"