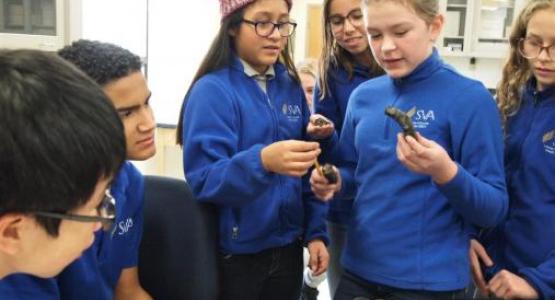 Spring Valley Academy Introduces 'STEM Buddies'
April 16, 2020 ∙ by rbacchus ∙ in Ohio Conference, Education
Story by Dillon Zimmerman
Ohio Conference's Spring Valley Academy (SVA) is making a concentrated effort to expand their science program this year. One route they have taken is an initiative dubbed "STEM Buddies." The vision of STEM Buddies involves high school students sharing the knowledge they have acquired in their science courses with lower grades using a method that is both understandable and enjoyable.
There are two separate branches of STEM Buddies. One branch takes the form of a science club that meets every third Friday (prior to the COVID-19 pandemic). This club spends time practicing hands-on demos, such as making Play-Doh circuits, experimenting with inversion goggles and creating Ublicks. They then invite elementary students to the lab to interact with the demos. The high schoolers usually
end the session by sharing a brief worship thought with the kids, tying in the demo with a spiritual lesson.
The second branch of STEM Buddies is more formal and tasks the students to prepare a project to teach the children a STEM concept. The SVA chemistry class invited fifth- and sixth-graders to the lab. Each chemistry student had prepared a demonstration that illustrated a chemical reaction. They explained to the middle schoolers what type of reaction was occurring, what the reactants were and what the products were. This took the place of a traditional paper and pencil assessment.
In other cases, the middle school students assist high school students. For example, the SVA physics students brought schematics from egg drop crafts to the sixth-graders. In turn, the sixth-graders helped design and test the physics students' initial ideas, giving them a better idea on how to proceed as they made their final egg drop crafts.
"This is only the beginning of STEM Buddies, and we're hoping it will grow. In addition to future crossgrade level projects, SVA hopes to extend this initiative to the community. It would be a blessing to see the high school students give the children's story during church service, teaching kids about God's nature in Sabbath School or even assist a sister school at a science fair," says Darren Wilkins, principal.
Wilkins adds, "SVA staff is grateful for the continued support and prayers as they foster a spirit in their students that learns well and seeks to translate that knowledge into service for others."