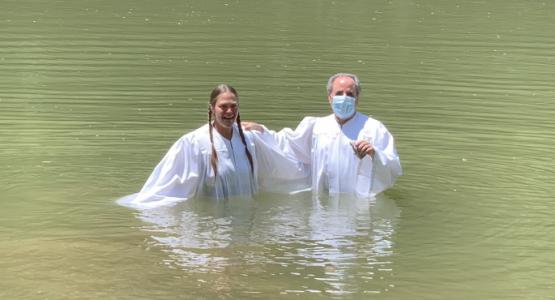 Ministry Continues Despite Pandemic Restrictions
September 30, 2020 ∙ by Web Administrator ∙ in Coronavirus Pandemic, Ohio Conference
Story by Heidi Shoemaker
During the early weeks of the COVID-19 pandemic, Ohio Conference leadership recognized one thing: Ministry does not stop. Woven into their COVID-19 "Ministry Action Plan" are words of encouragement: "Worship is a way of life and has not, and will not, be canceled. Ministry does not stop because we cannot worship together in a building. Ministry can and will continue because of you."
Pastors, teachers, church members and students quickly adapted to virtual worship and classes, finding innovative ways to remain connected and share Jesus with others. Pastors met weekly via Zoom, sharing what was working within their regions and seeking guidance for difficult circumstances. Innovation and perseverance flourished across churches and schools during quarantine.
Countless Bible studies, small group studies and Sabbath Schools continued via video conference and teleconference. The Ohio Conference Hispanic Ministries Department conducted multiple online evangelism campaigns. God's work continued in earnest across the state, with members and leaders engaged at all levels of ministry, most lasting long after the state of Ohio began to reopen.
"Almost daily I receive inspirational stories about churches in the Ohio Conference that are moving the mission of the Church forward in our new reality. Some remain active in the newly discovered sanctuaries of live streaming and social media worship platforms, while others have returned to simplified live worship services and experiment with air hugs and elbow bumps as new ways to greet members and guests," shares Bob Cundiff, Ohio Conference president.
Cundiff continues, "Did you know that during the pandemic, the Ohio Conference has had 75 baptisms? It's true! These outreach events have largely been conducted virtually and have opened a world of new possibilities for how we can build God's kingdom remotely. I've said all along that we will emerge from COVID-19 different than we entered, and part of that different will be a new appreciation for digital evangelism."
One such story occurred in the Middletown church. After completing her Bible studies with District Pastor Fred Shoemaker, Jody Kelly chose to be baptized on Independence Day in the Little Miami River (pictured). What made Kelly's baptism even more special was the presence of her grandmother, Middletown church matriarch Mildred Hall, who has known and shared the love of Christ with generations of people, including her.
Later, Allison Singhoffe's baptism took place in the Beavercreek church. "It's been a while that this special day has been in the making," says Pastor Delthony Gordon. "God has brought the timing together just right."
Seventeen baptisms took place during the "Discovering the Power of God's Word" virtual Hispanic Ministries evangelistic campaign, presented from the First Hispanic Church of Columbus in Westerville. Additional campaigns are being planned statewide.
Cundiff encourages pastors and church leaders to continue utilizing and growing their new digital platforms: "The pandemic has pushed our society further into the digital world. Let's see what God can do with a group of Spirit-led believers when they unleash their pent-up energy to share the gospel with Ohio!"