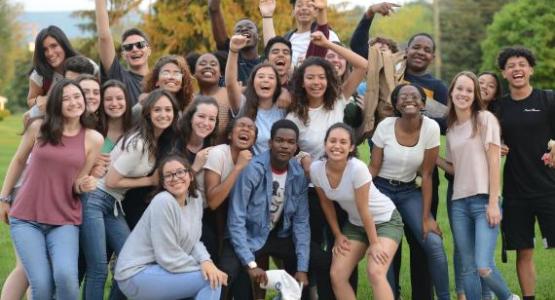 Thank you, Lord, for Students Who Love & Serve You
September 26, 2019 ∙ by rbacchus ∙ in Potomac Conference, Editorials, Education
Editorial by Donald Short
Each registration day, Potomac Conference's Shenandoah Valley Academy (SVA) faculty and staff form a circle, join hands and pray for the students who will momentarily walk through the doors of Twomley Hall and become part of the SVA family. We pray for God's blessings on the school year and recommit to serving students by educating them through "experiences that produce disciples of Jesus"—the mission of SVA.
It's exciting when the students walk through the doors and stories of God's leading begin to emerge. It's amazing to learn the circumstances that lead students to SVA, and to hear them talk about their personal commitment to Christian education. Stories of God's leading are often about the greatest challenge—finances. Many factors bring students' financial plans together to make attending SVA possible: parents pay tuition; students commit to work; local churches provide some financial help; and many alumni and friends of SVA give generously to help keep the important promise that "no qualified student will be turned away from Shenandoah because of finances."
Students below express what God has done and continues to do in their lives on the campus of SVA:
■ SVA provides me with a quality education and a great spiritual environment, giving me the chance to be a leader and an example to others. It has molded me into a better person with a stronger relationship with the Lord.
■ Adventist education means a lot to me because I feel the faculty and staff care so much about me.
■ I work in the cafeteria, learning what it takes to feed 200 students, and I really love the hands-on work experience.
■ The faculty at SVA are all great! The teachers take time to explain in ways that are fun and effective. They challenge me to think differently and encourage me to keep going each day.
■ A Christian education is important to me because I can openly pray and have conversations about God. I can ask questions about the Bible. My spiritual life isn't shut down. Instead, I'm encouraged to embrace being a Christian.
■ It is important for me to be at SVA. It is an amazing experience to encounter God while receiving a great education. I have learned so much about leadership and have been able to grow my faith in the Lord. Thank you to the people who have given to help me continue attending SVA.
■ SVA has really changed my point of view on God. I am excited to learn more about Him this year, and I hope to share God's love with others.
Thank you to each one who supports SVA Adventist boarding school education with prayers, encouragement and financial support for the next generation of Christ's disciples here at Shenandoah Valley Academy. Thank you, Lord, for students who love you and want to serve you.