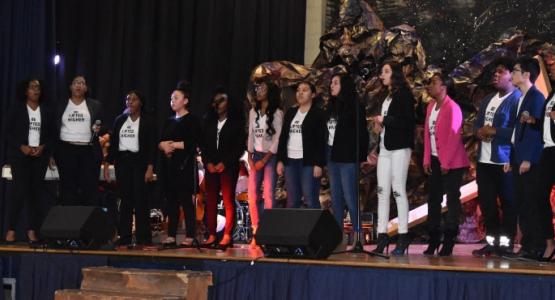 Lake Nelson Students Host Concert to Help Camp Fire Survivors
May 08, 2019 ∙ by Web Administrator ∙ in New Jersey Conference, Education
Story by Vanessa Guerrero ('19)
For the past 11 years, Lake Nelson Adventist Academy (LNAA) students, staff, parents, churches and friends have banded together to help those in need by offering benefit concerts, organized as part of a gospel celebration during Black History Month. This year, LNAA student artists, vocalists, instrumentalists and guests dedicated their skills to a worthy cause for the 11th annual Gospel Benefit Concert.
LNAA students presented their talents in praise dance, stepping, drum, song, poetry and music, including featured performances from the Barbara McNair singers and the "Cornerstone" group from the Indonesian Pioneer church in Plainfield, to raise proceeds for the survivors of the Camp Fire that devastated Paradise, California.
It was the deadliest fire in California's history. A state fire official reported that the fire burned through 153,336 acres and destroyed 18,793 structures— 13,973 of those structures being residences. The fire, which was not fully contained until 17 days after it began, also took the lives of more than 85 people. Most of Paradise was devastated, including the Paradise church and the school's K-4 building.
"We unofficially started the benefit concerts in 2005 and continued sharing our talents to bless those in need," says Leah Ware, coordinator of the event. "This benefit concert is more than a program; it is a way to give back to the community and the world during a month that was set aside for just that—service and helping others."
Students prepared for the annual benefit concert months in advance because they wanted everything they did to help the audience feel inspired and moved to give. Jaya Gibbons, president of the Student Association, states, "My experience participating in both the praise team and choir for the annual Gospel Benefit Concert was an immense blessing." Camille Green, a parent of three LNAA students and an avid supporter, shares her testimony on the impact of the concert: "We were introduced to the concerts through friends from church—we attended once and then decided to enroll our children in Lake Nelson."
The LNAA Gospel Benefit Concert will continue to serve its purpose of reaching the community and world in need. Allowing God to use LNAA as instruments of His love, blessing the less fortunate, and this year, helping California, with God's grace they will continue to help others.